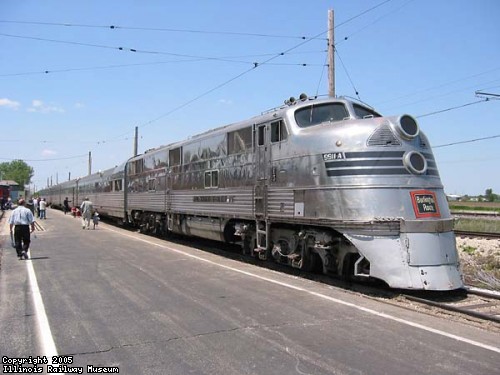 The Silver Pilot and Nebraska Zephyr at the East Union Depot.
Nebraska Zephyr Excursion
Chicago to Galesburg, and Quincy, Illinois
Saturday and Sunday, September 22 and 23, 2012

The Illinois Railway Museum, in cooperation with Amtrak and BNSF Railway, will operate the Nebraska Zephyr, powered by CB&Q 9911A "Silver Pilot", on an excursion between Chicago and Quincy, Illinois on September 22nd and 23rd.

On each day, the Nebraska Zephyr will depart Chicago Union Station at 9:00AM and travel on BNSF's Mendota subdivision 162 miles to Galesburg, Illinois, arriving at 11:40AM. The Zephyr will depart Galesburg at 12:00PM for another 96 miles to Quincy, Illinois, turn on the wye at West Quincy and arrive back at Galesburg at 4:00PM. The Zephyr will then depart Galesburg at 4:20PM and arrive back at Chicago Union Station at 7:00PM, a total round trip of over 500 miles.

This will be the first time the Nebraska Zephyr has operated with passengers from Chicago Union Station to Galesburg since it was in service in 1968 and the first scheduled passenger service to Quincy, Illinois. This will be a rare excursion that should not be missed.

Purchase Excursion Tickets Now

Excursion ticket orders received after Friday, September 14th will be held for pickup at Chicago Union Station or Galesburg, whichever is the first segment of your order. We will email an information sheet to you when your order is processed.

The Excursion will be split up into three ticketed segments:
| | | | |
| --- | --- | --- | --- |
| Segment | Miles | Coach | Parlor |
| Chicago to Galesburg | 162 | $129 | $229 |
| Galesburg to Quincy and return to Galesburg | 200 | $139 | $239 |
| Galesburg to Chicago | 162 | $129 | $229 |
You will be able to purchase tickets for a single segment, any combination, or all three segments. This will provide many options including taking the first and third segments and visiting the City of Galesburg for the afternoon. Also, there are options to take Amtrak service to or from Galesburg one way and ride this excursion the other way. To ride the Nebraska Zephyr from Chicago all the way to Quincy and return to Chicago, three tickets would be needed, one for each segment.

Each segment will have two classes of service, Coach and Parlor. Both classes will include meal service. Seating is very limited, so do not delay when tickets go on sale. Please check back often for updates.

All proceeds benefit the continued restoration of the Nebraska Zephyr.

About the Nebraska Zephyr:

Following the introduction of the highly successful "Pioneer Zephyr" in 1934, the first diesel powered streamlined train, the CB&Q took delivery of this train and an identical sister train in 1936 for use in the then highly lucrative and fiercely competitive Chicago-Minneapolis passenger market. They became known as the "Trains of the Gods and Goddesses", because the cars were named for Greek and Roman deities.

Like the "Pioneer Zephyr" and other early streamlined trains, this train and its sister were complete articulated units which could not be uncoupled except by the repair shops. Unlike the earlier streamliners, however, the locomotives of the 1936 Zephyrs were not integral parts of the trains. This prevented an engine breakdown from requiring an entire train to be removed from service. Articulated trains such as this one fell into disfavor soon after the 1936 Zephyrs were built because of the impossibility of varying train lengths. The CB&Q 9911A locomotive is a 1940 EMC E5A, and is the only one left in existance. It is powered by two 1,000HP 12 cylinder 567A diesel engines and was originally geared for 117MPH.

The 1936 Zephyrs were replaced on the Twin Cities route by newer streamlined equipment in 1947. This train and its sister both then received the name "Nebraska Zephyr" and were used between Chicago, Omaha and Lincoln. Originally six cars in length, both trains had a seventh car added before being reduced to five cars in later years. They were retired in 1968. The Train of the Goddesses came to IRM that same year.

All schedules and times subject to change without notice and there may be delays due to other rail traffic.