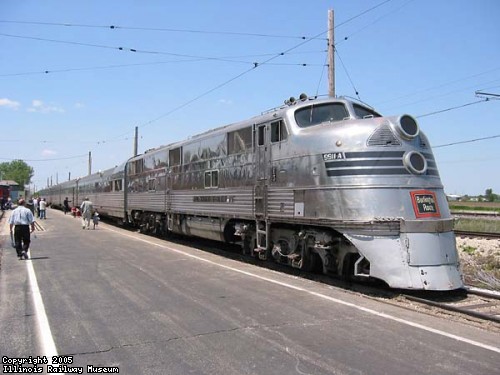 The Silver Pilot and Nebraska Zephyr at the East Union Depot.
Nebraska Zephyr Excursion Ticket Information Sheet
Chicago to Galesburg, and Quincy, Illinois
Saturday and Sunday, September 22 and 23, 2012
GENERAL INFORMATION:
- BAGGAGE: The Nebraska Zephyr is equipped with overhead baggage storage in both coach and parlor and a limited amount of shelf storage is available at the end of each car. Please keep the number and size of bags brought aboard the train to a reasonable amount. Redcap assistance is available (at your expense) at Chicago Union Station. If you are using connecting Amtrak service via Galesburg, keep in mind Amtrak does NOT offer checked baggage service or assistance with bags at Galesburg. If you must bring oversize or heavy bags please contact us in advance to make arrangements.
- SEATING: All seats in both coach and parlor are unassigned. You are free to move about the train (within your class of service) during the trip. Your ticket entitles you to the use of ONE seat at a time…please be considerate of others. To help you remember your place, seat numbers are located on the overhead baggage shelf above each seat.
- SPECIAL NEEDS/ACCESSIBILITY: Please advise us as soon as possible if you think you will need assistance boarding or detraining. While we will make every reasonable effort to accommodate special needs, please keep in mind as a piece of historic rail equipment, the Nebraska Zephyr is not required to be fully accessible under the Americans With disabilities Act and its aisles and washrooms are not wheelchair-accessible. Contact us directly if you have questions.
- DINING CAR SERVICE: Our dining car will be serving throughout the trip. Your ticket includes the appropriate meal for the class of service on each trip segment. We will be offering a continental-style breakfast (served at your seat in coach) westward from Chicago to Galesburg, lunch on the Galesburg-Quincy round trip and dinner will be served on our return to Chicago. Because of the number of passengers, origin and destination combinations and the seating capacity of the diner, we will need to make multiple seatings for each meal. As seating in the dining car becomes available, announcements will be made as to the number of passengers that can be seated. First priority will be given to Parlor Car passengers and those riding only the current trip segment. Please come promptly to the diner when called. To allow everyone to enjoy the dining car experience during each trip segment, we ask you not linger excessively at your table once you have finished eating. Our dining car staff looks forward to serving you in the finest railroad tradition.
- PHOTO OPPORTUNITIES: This excursion seeks to replicate the experience of riding aboard a classic streamliner from the "Golden Age" of rail passenger service. While photo opportunities will be available at Chicago, Galesburg and Quincy, our tight schedule precludes our offering photo runbys en route. All photo opportunities are subject to change or cancellation based on train performance. Also, the design of the vestibule doors on the early Zephyrs (like ours) does not allow for 'dutch door' riding or photography. We apologize for any inconvenience.
- AT QUINCY: We will not be making a passenger stop at the Amtrak station in Quincy. All passengers will remain aboard the train for the trip to the wye at West Quincy, MO.
IF YOU ARE BOARDING AT CHICAGO UNION STATION:
- GETTING THERE: If you are driving to Union Station, DO NOT UTILIZE ON-STREET PARKING! City Of Chicago parking meters have strict maximum time limits and are now enforced 24/7. You will be ticketed and/or towed!! There are several parking facilities within walking distance of Union Station, including a large parking garage at Canal and Jackson Streets that is connected to Union Station by underground passageway. These facilities will cost roughly $25-30 per day. You have several options if you wish to use public transportation to reach Union Station. The CTA Blue Line Clinton St. station is approximately 1.5 blocks south of CUS and several CTA bus lines stop at or near the station. Metra's BNSF, Milwaukee North and Milwaukee West lines serve Union Station directly and offer weekend service. For complete information on fares and schedules for both CTA and Metra, call the RTA Travel Information Center at 312-836-7000.
- PASSENGER CHECK-IN: Departure time from Chicago is 9:00 AM. We ask all passengers gather in the Great Hall of Union Station (building on the west side of Canal Street) no later than 8:15 AM each day where an IRM representative will check you in. Once the train has been backed into the depot and is ready for boarding, we will proceed as a group to the platform. While our train is running under the auspices of Amtrak, it is not a regularly-scheduled train and as such it may not show on the station's departure boards. Additionally, not all Amtrak station personnel will be fully aware of our train's operation and may not be able to give you correct boarding information. For this reason, we ask you meet us in the Great Hall for check-in and boarding.
IF YOU ARE BOARDING AT GALESBURG:
- GETTING THERE: The Galesburg Amtrak station is located at 225 S. Seminary St. in downtown Galesburg. Parking at the station is limited, use of the spaces in the semicircular drive at the station is reserved for patrons of Amtrak's regularly scheduled services. Excursion passengers should seek alternate parking on nearby streets. There is a sizeable public lot at the corner of Kellogg and Simmons Streets near the Orpheum Theatre, about 1 block north and 1 block west of the station.
- STATION FACILITIES: The Amtrak station is scheduled to have a ticket agent on duty both Saturday and Sunday from 7:00 AM to 8:35 PM. The station has fully-accessible washrooms and a water fountain but no ATM, no Wi-Fi and waiting room seating may be limited. No checked baggage is accepted and no redcap service or assistance with baggage is available.
- GALESBURG RAILROAD MUSEUM: The Museum, located adjacent to the Amtrak station, will be open extended hours (10 AM to 5 PM) on both days so our Galesburg passengers can visit before or after their ride with us. For more information call (309) 342-9400.
- PASSENGER CHECK-IN: Westbound, the Nebraska Zephyr is scheduled to arrive at 11:40 AM and depart for Quincy at 12:00 Noon. Eastbound, arrival from Quincy is scheduled for 4:00 PM with departure for Chicago at 4:20 PM. Excursion passengers boarding at Galesburg will be checked in by an IRM representative arriving in Galesburg on Amtrak Train 381 (the Carl Sandburg) approximately 45 minutes prior to the excursion's arrival. Passengers should plan on arriving at the station for check-in at least 45 minutes prior to their departure time. Passengers arriving on Amtrak Train 381 may check in with the IRM representative en route. The Amtrak ticket agent at Galesburg cannot answer ticketing questions or handle check-in for our train, but excursion passengers are expected to follow the instructions of the Amtrak ticket agent regarding the use of station facilities. All check-in and ticketing questions will be handled by the IRM representative(s).
Thank You for choosing to travel with us!
Sincerely,
The Nebraska Zephyr Staff
All schedules and times subject to change without notice and there may be delays due to other rail traffic.