Saturday, October 13, 2018 the Illinois Railway Museum will celebrate the public transportation heritage of the Cream City. Milwaukee Transit Day will feature examples of rail and bus transit from across Milwaukee and southeast Wisconsin and spanning most of the 20th Century.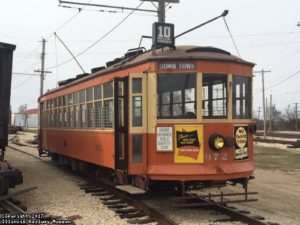 Street railway service within Milwaukee will be represented by Milwaukee & Suburban Transit streetcar 972 and Chicago & Milwaukee Electric streetcar 354, both of which will be on static display.
Milwaukee was the home to two famous interurban lines, the Milwaukee Electric and North Shore Line, and both will be represented. North Shore interurban cars will operate on the main line. Milwaukee Electric dump motor D13 will also be in service. Additional equipment from both interurban companies will be on static display including line car 604, caboose 1003, and the "Electroliner" from the North Shore as well as freight motor M15 and interurban coach 1129 from the Milwaukee Electric.
The transit celebration won't be limited to rails; buses and trolley buses will operate as well. Milwaukee 441, the last operating Milwaukee trolley bus, will be in operation throughout the day alongside motor buses from the museum's collection. The Bus Stop Shop will also be open, offering for sale books and historic transit items from Chicago, Milwaukee, and other cities to raise funds for restoration work at IRM.
Don't miss this unique event! Milwaukee Transit Day is October 13th, 2018 at the Illinois Railway Museum.
For hours, admission prices, and scheduled operating equipment click here.
All schedules and equipment subject to change without notice.