Happy Holiday Railway Event Information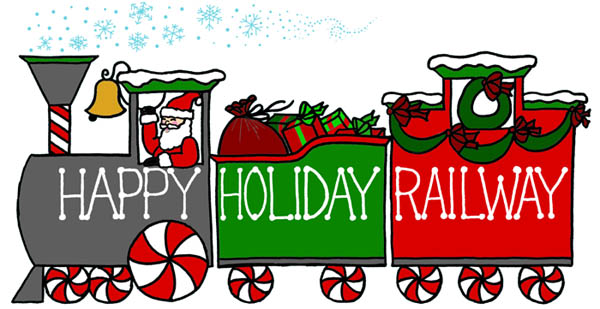 Embark on a magical 40 minute train ride through the winter countryside with Santa Claus himself! Treats will be served and gifts will be given to children on Santa's "good list".

Days for this event are November 26th, 27th, December 3rd, 4th, 10th, 11th, 17th, and 18th. Saturday trips are hourly from 2pm to 7pm and Sunday trips are hourly from 1pm to 6pm. (Rides at other times may be opened up at a later date based on demand). Ticket prices are $18.00 per person. Everyone past their first birthday must have a ticket. Tickets are non-refundable and non-transferable, all ticket sales are final. Most display buildings and museum grounds will not be open for this event. Parking is free. Plan to arrive 30 minutes before your scheduled trip.

For those of you who have visited us in previous years, note that the format of the event is improved for 2016. The train ride is longer, and will leave from a platform at Barn 9 and return to the same platform, rather than the diner or depot. Santa will ride the train with you. Hot chocolate will be available on the train and in the diner. Display Barns 6, 7, and 9 will be open. Rides will also be available on the museum's Trolley Bus route.

Purchase tickets online now!

If you are unable to print your tickets at home, bring a copy of your order
confirmation email to the ticket booth where you will check in for your ride.