This is your opportunity to see and ride some of the less frequently run equipment at IRM as we honor the volunteers who make the museum work. There will be great photo opportunities too!
Attractions planned during Showcase Weekend include operation of the Nebraska Zephyr, the museum's famous 1930s streamliner; historic electric cars; operation of both of the museum's steam engines, Frisco 1630 and Shay 5; and trolley buses on Saturday. Memberships good through 2021 will go on sale on the 19th and there will be a dinner open to museum members on Saturday evening. Memberships and member dinner tickets may be purchased at the museum office during the day.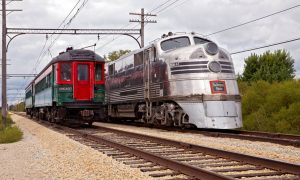 Hours / Admission / Operating Schedule Information:
Electric trains and Diesel or Steam trains will be operating.
Equipment Scheduled to Operate on Saturday, September 19th:
– TBA
Equipment Scheduled to Operate on Sunday, September 20th:
– TBA
Daily Admission Rates:
Adults $15.00, Senior $13.00, Children $11.00
Museum Hours During This Event:
10:00AM to 6:00PM (Last admissions 4:00PM)
All equipment, schedules and prices subject to change without notice.
Operation of equipment is expected to start within 60 minutes of opening and cease 30 minutes before closing.
Parking lot opens 30 minutes before museum and closes 30 minutes after.