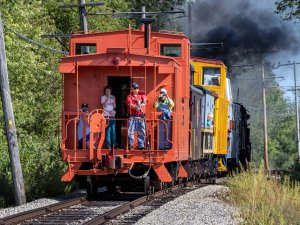 Nothing makes a visit to the Illinois Railway Museum unforgettable quite like a trip on the caboose train. An always popular attraction that operates only on select weekends during the summer, this train includes a string of historic railroad cabooses lovingly restored by museum volunteers. Be the conductor for the day: grab a seat by an open window or door to enjoy the breeze and the sound of the whistle. Or, if you'd prefer a different perspective, climb up and sit in the cupola, where you can overlook the rest of the train.
Depending on the day, the caboose train is typically pulled either by a steam engine – usually Shay 5, built in 1929 – or by an historic diesel locomotive. The cabooses in the train are from a variety of different railroads. They're also of different styles, with the train usually including cupola, bay window, and possibly transfer cabooses.
Cabooses included in the train may include a selection of the following:
Support Caboose Restoration at IRM
The volunteers in the Illinois Railway Museum's Freight Car Department work hard to keep our caboose fleet in excellent condition, but they can't do it alone. Click here to learn how you can support the restoration and maintenance of the museum's caboose collection.