Purchase General Admission Tickets
Before you visit, even if you have been a regular visitor in the past, please take the time to review the procedures and policies listed at this link.
On Chicago Day, the Museum commemorates the 64th anniversary of the last day of streetcar operation in Chicago. The past lives on as you ride streetcars, 'L' trains, interurbans, and commuter trains that served Chicago.
The year was 1958.
The Cubs finished fifth in the National League with a 72-82 record. Jack Brickhouse called the games on WGN-TV. The average income was $4,650 a YEAR! Gas was $ .25 a gallon. Stamps cost $ .04. America's love affair with the automobile was in full bloom. Despite fares of $ .25 a ride, conversion to buses and declining ridership on Chicago's streetcar system made continued service no longer viable. The last of what once were 101 streetcar routes, ended on the Wentworth Avenue portion on June 21st , when the "Green Hornet" car making the historic run dropped its wires.
But wait - all the streetcars are not gone, nor are they stationary.
Join us for Chicago Day
On Saturday, June 18th, Chicago streetcars will again be rolling at the Illinois Railway Museum. The last remaining "Green Hornet" car and a 114 year old "Red Rocket" car ( # 1374) will carry passengers again. Historic CTA "L" cars, Interurban's and a steam train will also be operating and carrying our visitors.
Dozens of examples of cars from Chicago's rich transit history are on display and in operation at the Illinois Railway Museum. The collection spans everything from the very beginning of the system to recently retired equipment. The first horse car operated in Chicago on State Street in 1859. The horses were replaced by cable cars in the 1880's and by 1906 all routes had been converted to electric streetcars. The Chicago streetcar system at one time had over 1000 miles of track. Abandonments started in 1924 and continued steadily after WWII until the last was ended in 1958. Trolley buses powered by the same overhead wire took over some routes, but they too were converted to regular buses by 1973. Examples of each phase of the transit evolution are at the museum.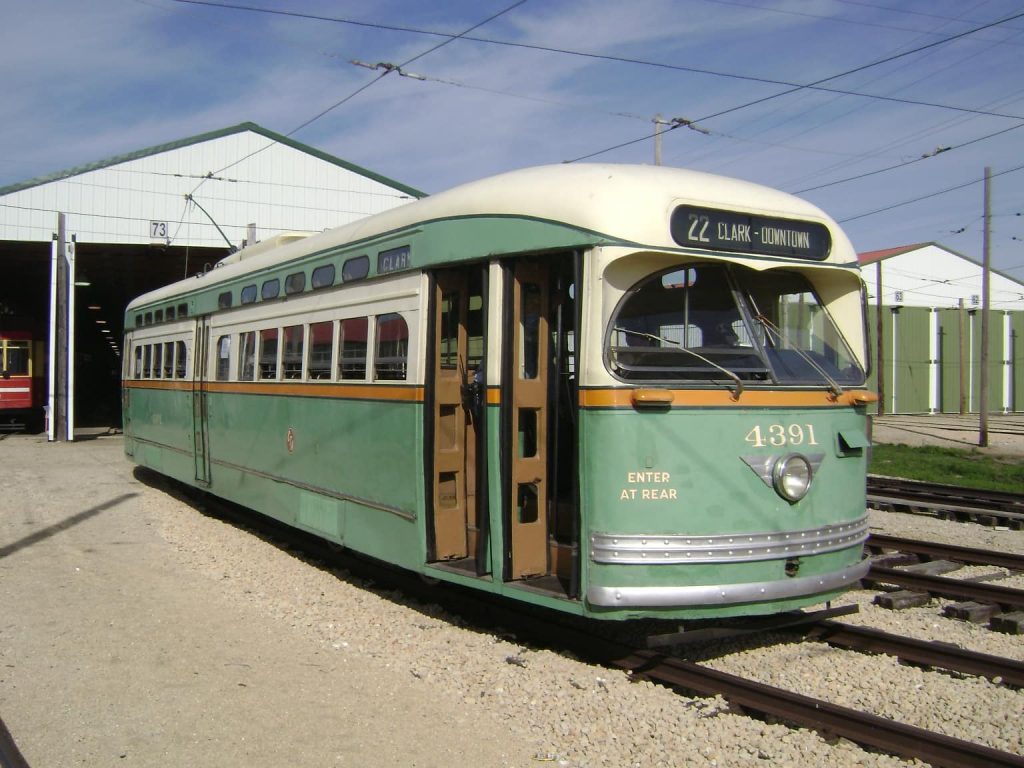 Hours / Admission / Operating Schedule Information:
Electric trains and Diesel or Steam trains will be operating.
Equipment Scheduled to Operate:
Frisco 1630 and steam coach train ♿
Chicago Aurora & Elgin 36 and 319
Chicago North Shore & Milwaukee 749
Chicago Rapid Transit 1268 and 1797 ♿
Chicago Surface Lines 144
Chicago Surface Lines 1374
Chicago Transit Authority 4391
Admission Rates:
Adults $16, Senior $14, Children $12
Museum Hours:
Trains operate hourly 11:00am to 4:00pm or more often as needed.
The Museum grounds open at 10:00am and close at 6:00pm.
The parking lot opens at 9:30am and closes at 6:30pm.
All equipment, schedules and prices subject to change without notice.
♿ = this train is wheelchair-accessible