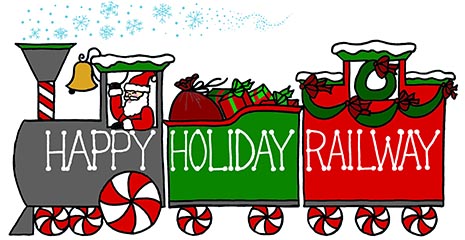 Happy Holiday Railway Santa Trains All Aboard for the North Pole!
Embark on a magical 40 minute train ride through the winter countryside with Santa Claus himself!
Enjoy a 40-minute train ride for the whole family
See and visit with Santa Claus on the train
Treats will be served during the trip
Gifts will be given to children on Santa's "good list"
Holiday lights display at the boarding area including the biggest and brightest Christmas tree in McHenry County
Hot chocolate available FREE on the train
See historic trains in the museum's display barns 6, 7 and 9
Rides on historic Chicago streetcars included with your ticket
Free parking
Start a new Christmas tradition with your family this year!
Days for this event are November 23rd, 24th, 29th, 30th, December 1st, 7th, 8th, 14th, 15th, 20th, 21st, 22nd, and 23rd. Saturday and Sunday trips, and trips on Friday, November 29th, take place at 11:30am, 12:30pm, 1:30pm, 2:30pm, 3:30pm, 5pm, 6pm, and 7pm. Trips on Friday, December 20th and Monday, December 23rd take place at 5pm and 6pm only. (Rides at other times on all dates may be added later based on demand).
Plan to arrive 30 minutes before your scheduled trip.
Ticket prices are $20.00 per person. Everyone past their first birthday must have a ticket.
Tickets are non-refundable and non-transferable, all ticket sales are final.
 Most display buildings and portions of the museum grounds 
will not
be open for this event. Parking is free. The train ride will leave from the historic 1851 East Union Depot. Santa will ride the train with you. Hot chocolate and cookies will be available on the train. Display Barns 6, 7, and 9 will be open. Streetcars will be in operation on our Trolley Loop. If you are unable to print your tickets at home, bring a copy of your order confirmation email to the museum store where you will check in for your ride.
Join us for the most exciting holiday train in the greater Chicago area! All Aboard!
Special Fare Days - No passes honored during this event
All schedules and equipment subject to change without notice.