Steam Engineer Experience Tickets (SOLD OUT) General Admission Tickets
Steam Engineer Experience 2023 is SOLD OUT! Thank you for your support!
If you've ever wondered what it's like to be the engineer on a real steam engine, join us at the Illinois Railway Museum on June 17 and 18, 2023 or the Steam Engineer Experience. Sign up for a time slot to run our Shay 5 steam locomotive and you'll enjoy the unforgettable experience of being at the throttle of a full-sized steam locomotive. This event is open to anyone 18+.
Our volunteers will give you a quick safety and informational orientation and then you'll be on your way – under supervision, of course. The Shay will be staged for boarding on the West Wye. The Shay will run from the West Wye to Jefferson St. You'll have 25 minutes of throttle time. The engine will be "running light" and will not be pulling a train. A Museum photographer will document your experience and you'll receive digital photographs for free as part of the package. You'll also get a complimentary souvenir Shay 5 Take the Throttle hat.
Steam Engineer Experience Policies & Requirements
The price of the Steam Engineer Experience is $250. Steam Engineer Experience tickets are sold exclusively online and are not available by phone. All participants must be 18 years of age or older and must bring a state-issued photo ID with them. Participants must arrive at the museum gate at least one hour in advance of their time slot (registration for the Steam Engineer Experience DOES NOT include general admission). General Admission tickets must be purchased separately unless you are already a member of the museum. Participants must wear jeans/denim pants (denim overalls are recommended but not required) and closed-toe shoes or boots with a defined heel. IRM will provide additional PPE including safety glasses, work gloves, and hearing protection, which must be worn while running the engine. In the event Shay 5 is unavailable due to mechanical or other reasons, participants will have the option of rescheduling or receiving a partial refund and running a diesel locomotive instead.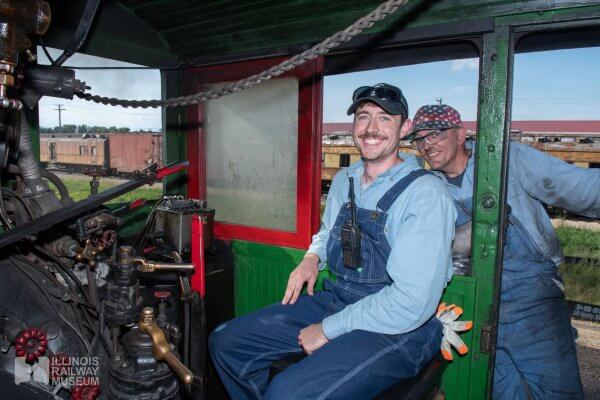 Before you visit, even if you have been a regular visitor in the past, please take the time to review the procedures and policies listed at this link.
Hours / Admission / Operating Schedule Information:
Electric trains and Diesel or Steam trains will be operating.
Equipment Scheduled to Operate on Saturday, June 17th:
J. Neils Lumber 5 (Steam Engineer Experience)
Equipment Scheduled to Operate on Sunday, June 18th:
J. Neils Lumber 5 (Steam Engineer Experience)
Daily Admission Rates:
Adults $18.00, Senior $16.00, Children $14.00
Museum Hours During This Event:
Saturday and Sunday: 10:00AM to 6:00PM (Last admission 4:00PM)
All equipment, schedules and prices subject to change without notice.
Operation of equipment is expected to start within 60 minutes of opening and cease 30 minutes before closing.
Parking lot opens 30 minutes before museum and closes 30 minutes after.