Main Streets across American almost always featured a post office, not only for sending mail but for for disseminating interesting information about the town and neighborhood. Located inside the (unofficial) East Union Post Office, just west of the museum main entrance, is the Illinois Railway Museum's Post Office Gallery. It is available for adaptive use to inform and educate our visitors about subjects relevant to transportation history, and to display artifacts and documents from our historic collection. Enjoy your visit!
Current Post Office Gallery Exhibit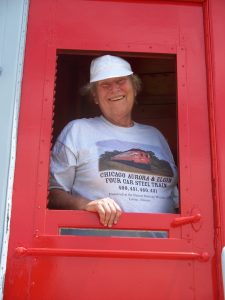 The artwork and photographs currently on display in the Post Office Gallery are a sample of items from the collection of the late Julie Ann Johnson (1942-2011). Julie Johnson was one of IRM's most important and most productive members. She contributed in numerous ways over 44 years and had a huge impact on the museum's early development.
Julie Johnson led many efforts over the years to transform the museum into the amazing place it is today. These efforts included the move of the Marengo depot to become the current East Union Depot; eastward extension of the main line (Johnson Siding is named in her honor); acquisition of numerous cars from the CA&E and other railroads; and the restoration of FW&WV parlor car 504. She brought her skills and experience in business and management to IRM by taking the lead in several land acquisitions. She also served on the board of directors for 17 years, including five years as museum president.
Julie Johnson was extremely generous to the museum in her life and beyond. She bequeathed her entire railroadiana collection, including her extensive accumulation of artwork, to IRM following her passing. This exhibit is a very small representation of the entire collection, which includes more than 16,500 items.