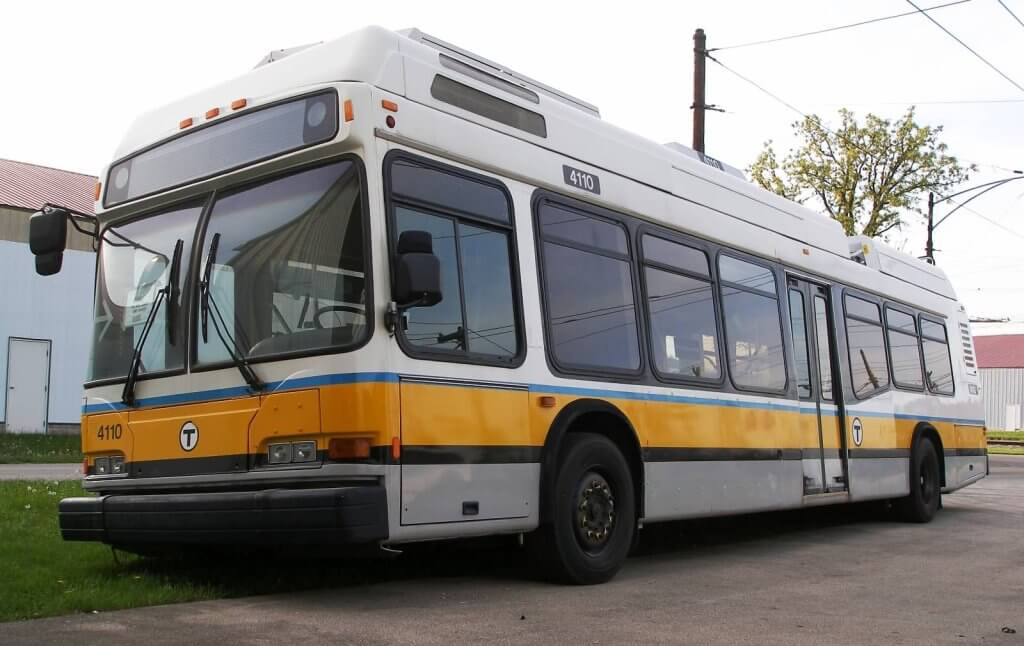 The Illinois Railway Museum is pleased to announce the arrival of Massachusetts Bay Transportation Authority 4110, a 2003 trolley bus. Neoplan USA, a former manufacturer of transit and intercity buses, built MBTA 4110. Neoplan USA was the American licensee of German company Neoplan Bus.
Bus 4110 was one of a fleet of 28 trolley buses, or "trackless trolleys" as Boston and many Northeast cities called them. This fleet provided service on Cambridge-area routes operating through the Harvard Square bus subway. These 28 vehicles were the first low-floor trolley buses in service in North America. Nearly all transit buses in use today are of the low-floor design. This design is characterized by a lack of steps at the entry and exit doors. Passengers with limited mobility or who use wheelchairs can ride this type of bus much more easily than the traditional high-floor type.
Trolley bus 4110 uses an AC-powered electric motor for propulsion. It is the first artifact at IRM to use AC traction. This technological breakthrough, used in rail and road vehicles alike, dramatically reduces maintenance costs compared with traditional DC traction motors. However, MBTA 4110 operates on the same 600 volt DC power as IRM's other trolley buses. An IGBT-based inverter mounted in a "pod" on the roof of the vehicle performs the conversion and control of that power. Czech Republic-based Škoda built the control equipment and traction motor.
MBTA retired its entire fleet of trolley buses on March 12, 2022, and abandoned the use of trolley buses on the Cambridge-area routes. They later donated the bus to IRM. The museum moved the 2003 trolley bus to Union aboard a specialized truck trailer to keep the overall height as low as possible. MBTA 4110 is IRM's 25th trolley bus, and including our motor buses, is the museum's 38th bus. It is also the newest piece of historic equipment of any type at IRM. It is in complete and operable condition. Following an inspection and clearance for service, IRM plans for MBTA 4110 to join its operating trolley bus fleet.
IRM Needs Your Help
Click here to learn how you can help with trolley bus preservation and restoration at the Illinois Railway Museum.