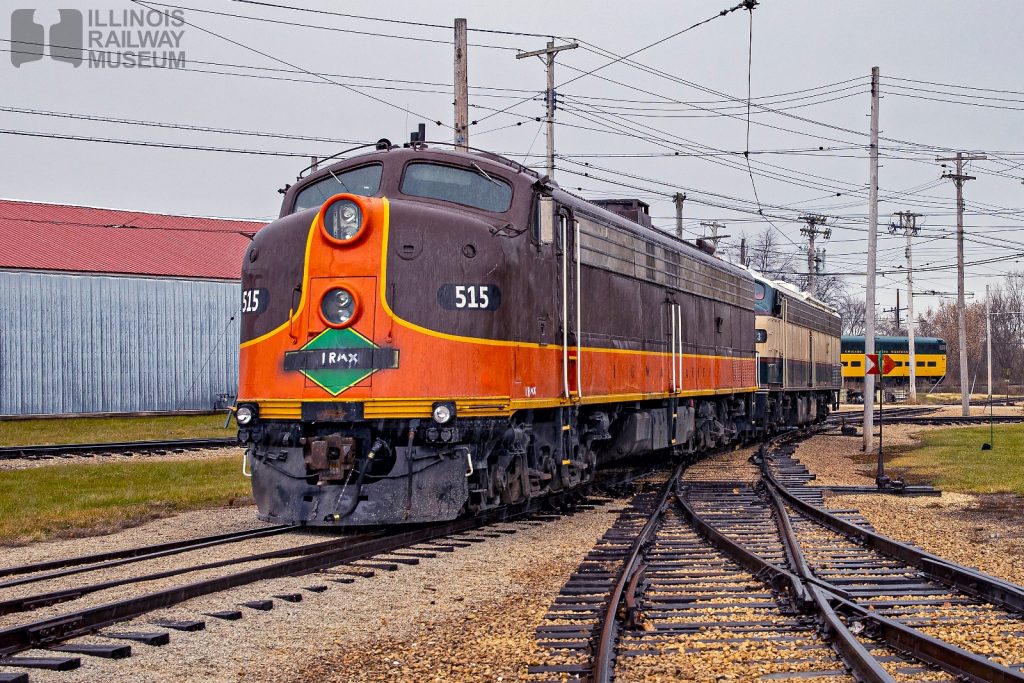 The Illinois Railway Museum has brought an historic E8A passenger engine back to home territory for preservation. Iowa Pacific 515, formerly Chicago & North Western (C&NW) 515, arrived on Museum property on Sunday, December 5, 2021, after being transported by rail from a storage location in Mississippi.
The Electro-Motive Division of General Motors built the historic diesel locomotive in McCook, Illinois, in 1953. It was originally numbered C&NW 5029B but was later renumbered 515 when it was reassigned from intercity service to Chicago area suburban service. It hauled Chicago commuters for decades, first for the C&NW and then later for the Regional Transit Authority and Metra, before retirement in the 1990s.
Longtime IRM volunteer Roger W. Kramer purchased the locomotive earlier in 2021 and donated it to the Museum. It is IRM's first E8A passenger engine and the Museum's first C&NW E-unit. The locomotive is complete and in generally good condition, though it will need some repairs and updates to run. The eventual goal will be to repaint the engine in C&NW yellow and green, but in the near term the priority will be to raise enough money to store the locomotive inside and out of the weather. Click here to see how you can help.
About the Illinois Railway Museum
The Illinois Railway Museum, a "Museum in Motion," is the largest museum of its kind in the United States. The museum dates to 1953 and is located 35 miles northwest of O'Hare in Union, McHenry County. It encompasses all aspects of railway history. Its collection includes steam and diesel locomotives, electric streetcars and elevated cars, and historic passenger and freight cars. The museum operates these trains on its 150-acre site and 4.5-mile long railroad. The museum, a nonprofit educational organization, relies entirely on visitors and donors to fund its preservation efforts. For more information on the Museum and its special events scheduled throughout the year, visit www.irm.org.
Photo at top by Rob Schreiner. Photos below by Lou Gerard.
Top to bottom: 515 in C&NW colors, Rogers Park, IL, July 1977; 515 in RTA colors, Rogers Park, IL, April 1983; 515 in Metra colors, Chicago, IL, May 1990.