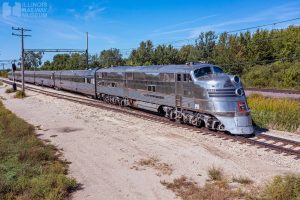 The Nebraska Zephyr is the most famous train at the Illinois Railway Museum. It is an articulated streamlined train built entirely of stainless steel. The train is known as the "Train of the Goddesses" because each of its five cars is named for for a classical deity. It is the only complete Zephyr train from the Chicago Burlington & Quincy Railroad in operation today.
Nebraska Zephyr History
The Nebraska Zephyr was constructed by the Budd Company of Philadelphia in 1936. Originally it was used between Chicago and Minneapolis-St. Paul and was one of two identical train sets known as the Twin Zephyrs. In 1947 the Twin Zephyrs were replaced on the Chicago to Minneapolis-St. Paul route with more modern equipment. At that time, our train set was put into service between Chicago and Lincoln, Nebraska and renamed the Nebraska Zephyr. The train is articulated, meaning that adjoining cars share the same truck and are therefore semi-permanently joined. Our train was built with six cars; had a seventh car added shortly after construction; and then had two cars removed from its consist in the mid-1960s.
When it was built, the Nebraska Zephyr was pulled by a two-unit set of "shovel nose" diesels. In later years it was commonly hauled by stainless steel E5 passenger diesels, and today the train is still hauled by the last surviving E5, CB&Q 9911A "Silver Pilot." The train set itself consists of the following five cars:
The Zephyr in Preservation
The Nebraska Zephyr was retired in 1968, purchased by IRM member Herb Hanson, and donated to the Illinois Railway Museum. The following year it was joined by locomotive 9911A. The Zephyr has been in service at IRM for nearly the entire period since and has embarked on numerous trips off-site. It was also featured in the move "A League of Their Own," where it played the fictitious Oregon Zephyr. You can learn more about IRM in the movies here.
The Zephyr needs your help to keep up with ongoing maintenance and repairs. Click here to learn about donating to support the Zephyr.