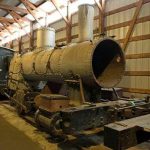 Vulcan 1917
American Creosote Works 7
| | |
| --- | --- |
| Description: | 0-4-0T Switcher |
Equipment Information
American Creosote Works 7 is the smallest steam locomotive in the IRM collection and the museum's only piece of equipment built by the Vulcan Iron Works. It is a tank engine, meaning it carries coal and water in tanks attached to the locomotive rather than in a separate tender. Vulcan built the engine during World War I for the U.S. Navy, which used it at the Brooklyn Navy Yard in Brooklyn, New York. Later, it operated at a creosote factory in Jackson, Tennessee.
American Creosote Works 7 Details
Builder: Vulcan Iron Works
Year Built: 1917
Builder Number: 2644
Wheel Arrangement: 0-4-0T
Length: 27ft
Width: 9ft 4in
Height: 11ft 4in
Weight: 78000 lbs
Brakes: Steam Jam
Tractive Effort: 16200 lbs
Cylinders: 14×20
Boiler Pressure: 180 psi
Drivers: 37in
Description: Switcher
Arrived: 1971
Condition: Incomplete / unrestored / not operational
American Creosote Works 7 Ownership History
1917-1942 – United States Navy #7
1942-1971 – American Creosote Works #7
1971-present – Illinois Railway Museum, Union, IL
What was the Vulcan Iron Works?
The Vulcan Iron Works was one of several smaller manufacturers of steam and diesel locomotives in the United States. Richard Jones incorporated the company in 1866, soon after the Civil War, in Wilkes-Barre, Pennsylvania. Initially the company focused on constructing machinery and equipment for the coal mining industry in eastern Pennsylvania. In the late 1880s, Vulcan entered the steam locomotive business and began building small switchers and mining locomotives. It continued to specialize in these smaller locomotives well into the 20th century, with small tank engines like American Creosote Works 7 constituting the core of its sales. In the 1920s, Vulcan also began building small internal combustion locomotives for industrial use. Following World War II, however, steam locomotive sales dried up and the company's diesel- and gas-powered offerings were unable to compete with larger builders. The company built its last locomotive in 1954.
Click to return to Steam Engine roster
Click to return to main roster page