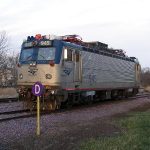 Electro-Motive 1982
Amtrak 945
| | |
| --- | --- |
| Description: | AEM-7 main line passenger locomotive |
Equipment Information
Amtrak 945 is an 11,000 volt electric passenger locomotive built in LaGrange, Illinois. It is the fastest locomotive at IRM. It was designed for a maximum speed of 125mph, which it would reach in service on the Northeast Corridor between Boston, New York, Philadelphia, and Washington DC. It was retired in 2018 and acquired by IRM, where it is preserved as a static display.
FUN FACT: Amtrak owned 65 locomotives identical to 945 and classified as type AEM-7. Railfans nicknamed them "meatballs" because although they were constructed in the United States, they were designed in Sweden – hence the allusion to Swedish meatballs.
COMPARE ME WITH: Pennsylvania Railroad 4927, a GG-1 locomotive built in 1942 which was directly replaced by AEM-7s like number 945. Although much smaller and lighter, the more modern AEM-7 is faster and has more horsepower than the WWII-vintage GG-1.
Builder: EMD
Year Built: 1982
Length: 51ft 2in
Width: 10ft 6in
Height: 14ft 9in
Weight: 204900 lbs
Brakes: 26-LIC/CS-1
Motors: 4 ASEA LJH 108-5
Control: ASEA Thyristor rectifier
Compressor: Rotary screw
Trucks: Fabricated 4-wheel
Description: Double End / B-B / AEM-7
Arrived: 2018
Condition: Complete / unrestored / not operational
Ownership History
1982-2018 – Amtrak
2018-present – Illinois Railway Museum, Union, IL
Click to return to Electric Locomotives roster
Click to return to main roster page