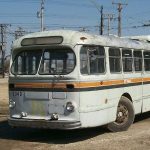 CCF-Brill 1951
British Columbia Transit 2340
Equipment Information
When Vancouver began replacing streetcars with trolley buses in 1948, they found the new equipment was quieter, cheaper to operate, and more appealing to the riding public. Within seven years, they had converted the rest of their streetcar lines to trolley buses, and built Canada's largest trolley bus system with 327 vehicles. Today, Vancouver is the only city in Canada still operating trolley buses.
The J. G. Brill Co. of Philadelphia, the largest streetcar builder in the USA, was hit hard by the Great Depression. The company was bought out by American Car & Foundry to form ACF-Brill, and continued making motor and trolley buses. ACF's Canadian licensee, Canadian Car & Foundry in what is now Thunder Bay, Ontario, produced vehicles to a design very similar to their American counterparts. Bus 2340 was part of an order for 55 of CCF-Brill's 48-seat T48A model.
CCF-Brill vehicles made up Vancouver's entire trolley bus fleet for many years, and continued in service longer than most other cities, thanks to good maintenance and the city's mild climate. We don't know exactly when bus 2340 was retired, but it was in either 1983 or early 1984. Almost all of the retired trolley buses were bought by a scrap dealer, who planned to re-sell them as a turn-key fleet to another city. After holding on to all of them for 16 years, the scrap dealer went bankrupt and most of the fleet was scrapped.
IRM acquired bus 2340 in 2001 with the assistance of the Transit Museum Society in Vancouver. It is complete and operational, but awaits air brake and electrical work before you can ride it in service on our demonstration line.
Builder: CCF-Brill
Year Built: 1951
Model: T48A
Seats: 48
Length: 38ft 7in
Height: 10ft 4in
Width: 8ft 6in
Weight: 18600 lbs
Motors: 1 CGE 1213J
Control: CGE MRC
Compressor: CP-25
Description: Trolley Coach
Arrived: 2001
Condition: Complete / unrestored / not operational
Click to return to Trolley Bus roster
Click to return to main roster page