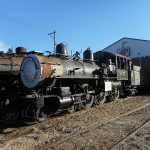 Rogers 1892
Chicago Burlington & Quincy 637
| | |
| --- | --- |
| Description: | 4-6-0 Ten Wheeler |
Equipment Information
Chicago Burlington & Quincy 637 is the second-oldest steam engine at IRM and the museum's only engine with a Belpaire, or square-top, firebox. It was designed for medium-speed freight and passenger service. Towards the end of its service life it was used in suburban service out of Chicago and following retirement spent several decades on display in Aurora before acquisition by IRM.
Chicago Burlington & Quincy 637 Details
Builder: Rogers Locomotive Works
Year Built: 1892
Builder Number: 4788
Wheel Arrangement: 4-6-0
Length: 59ft 10in
Width: 10ft 3in
Height: 15ft
Weight: 164550 lbs
Brakes: 6ET
Tractive Effort: 20700 lbs
Cylinders: 19×24
Boiler Pressure: 180 psi
Drivers: 64in
Description: Class K-2
Arrived: 1990
Condition: Complete / unrestored / not operational
Read more about the history of this engine in Rail & Wire #152
Ownership History
1892-1904 – Burlington & Missouri River in Nebraska #309
1904-1963 – Chicago Burlington & Quincy #637
1963-1990 – City of Aurora, IL
1990-present – Illinois Railway Museum, Union, IL
What was the Rogers Locomotive and Machine Works?
Rogers was one of the best-known and most prolific locomotive builders in the early years of railroading in the United States, the mid-1800s. The firm got its start in 1832 in Paterson, New Jersey, building machinery and metal fixtures for the textile industry. It soon expanded into manufacturing springs and other components for railroad equipment. It assembled its first steam engine, an imported English kit, in 1835 and manufactured its first new-build locomotive in 1837. Rogers built some of the most famous engines used during the Civil War period, including the General, used in the "Great Locomotive Chase," and one of the engines used in the 1869 Golden Spike ceremony completing the Transcontinental Railroad.
Rogers began to decline in the late 1800s and closed temporarily in 1901, just as several other small locomotive manufacturers merged to form the American Locomotive Company (Alco) to better compete with industry leader Baldwin Locomotive Works. The company reopened shortly thereafter, still as an independent firm. But it was at a competitive disadvantage due to its small size and the fact that – unusually for a locomotive builder – it lacked a connection to the railroad network. Alco ended up acquiring Rogers in 1905. It ended locomotive production at the Paterson plant in 1913, and closed out its operations at the facility entirely in 1919.
CB&Q 637 is one of two Rogers-built locomotives preserved at IRM, along with 1880-built Illinois Central 201. It's also one of 25 Rogers locomotives in existence.
Click to return to Steam Engine roster
Click to return to main roster page