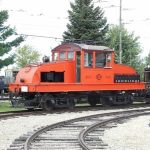 McGuire-Cummings 1915
Charles City Western 300
| | |
| --- | --- |
| Description: | Steeplecab freight locomotive |
Equipment Information
Charles City Western 300 is the only preserved electric locomotive built by the McGuire-Cummings Manufacturing Company of Chicago. It is a "steeplecab," with a cab in the center of the locomotive and sloping hoods on each side to provide good visibility in either direction for the engineer. It was used in freight service on the CCW in central Iowa until retired and sold to IRM in the 1960s. It was completely restored during the 2000s and 2010s.
FUN FACT: The cab on CCW 300 isn't square; it's slightly off-kilter. This is due to a major wreck the engine was involved in during the 1920s which partially demolished its cab. Fortunately nobody was killed.
COMPARE ME WITH: Illinois Terminal 1565, an electric locomotive built in 1910. IT 1565 is a "box cab," rather than a steeplecab, so instead of a central cab and sloped hoods it has a full car body for its entire length and the motorman is positioned at the end of the locomotive.
Builder: McGuire-Cummings
Year Built: 1915
Length: 32ft
Width: 9ft 3in
Height: 13ft 1in
Weight: 70000 lbs
Brakes: GE
Motors: 4 GE 205E
Control: M-C101A
Compressor: CP-30
Trucks: McGuire 10A
Description: Double End / Double Truck / Steeple Cab
Arrived: 1972
Condition: Complete / restored / operational
Read more about the history of this locomotive in Rail & Wire #239
Ownership History
1915-1964 – Charles City Western #300
1964-1972 – Iowa Terminal #30
1972-present – Illinois Railway Museum, Union, IL
Click to return to Electric Locomotives roster
Click to return to main roster page