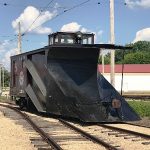 Russell 1936
Chicago Great Western X38
| | |
| --- | --- |
| Description: | Wedge Snow Plow |
Equipment Information
Chicago Great Western X38 is a Russell snow plow built for clearing snow off of the railroad tracks. It is not powered, but rather was designed to be pushed by a locomotive. The shape allows it to push snow off to either side of the tracks while hinged "wing plows" can fold out from the sides to push the snow further away. The plow operators ride in a raised cab on the roof.
COMPARE ME WITH: Union Pacific 900075, a snow plow of a very different design. The UP plow is a rotary snow plow, effectively a large snow blower, and carries its own power plant. Russell plows like X38 were a far simpler, and more common, design.
Chicago Great Western X38 Details
Builder: Russell
Year Built: 1936
Length: 44ft 8in
Width: 10ft 1in
Height: 14ft 11in
Weight: 84000 lbs
Brakes: ??
Trucks: Cast Steel
Description: Snow Plow / Steel Wedge Plow
Arrived: 2012
Condition: Complete / restored / operational
What was the Russell Car & Snow Plow Company?
CGW X38 is the only piece of equipment at IRM that the Russell Car & Snow Plow Company built. Russell's founding dated to 1893 and the company had a plant located in Ridgway, Pennsylvania, near the center of the state. The company specialized in building snow plows like this one, and over time they dominated the market for this type of plow to the point where "Russell plow" became synonymous with "wedge plow." The company built hundreds of single-track wedge plows like this one, double-track plows designed to push snow only to one side, and even double-ended plows. It also built flangers, spreaders, and it had a significant side business constructing electric railway snow sweepers, snow plows, and work cars. The company went out of business in the 1950s.
Click to return to Railroad Work Equipment roster
Click to return to main roster page