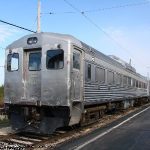 Budd, 1950
Chicago & North Western 9933
| | |
| --- | --- |
| Description: | Diesel-Mechanical RDC-1 Coach |
Equipment Information
C&NW 9933 is a "Rail Diesel Car," or RDC, a diesel-mechanical self-propelled coach. The RDC was designed in the late 1940s and was intended as a way for railroads to provide inexpensive passenger service on lightly-traveled branch lines. Nearly 400 RDC cars were built in all. This car was purchased by the C&NW for use in Chicago commuter service but before too long was deemed unsuitable and was resold.
COMPARE ME WITH: UP M-35, a self-propelled coach built in 1927 and nicknamed a "doodlebug." The RDC was designed to fill precisely the same role as the "doodlebug," but employed modern flourishes like stainless steel construction and air conditioning.
Chicago & North Western 9933 Details
Builder: Budd Mfg. Company
Year Built: 1950
Model: RDC 1
Horsepower: 560
Seats: 90
Length: 85ft
Width: 10ft
Height: 14ft 7in
Weight: 113120 lbs
Brakes: HSC-D22
Engine: Two GMC 6280
Trucks: RDC
Description: Diesel-Mechanical Coach
Arrived: 1992
Condition: Incomplete / unrestored / operational (unpowered)
The RDC
The idea of a self-propelled railroad car that could provide passenger service without a locomotive long seemed like an obvious and cost-saving device. For nearly a hundred years, starting about 1850, inventors tried to develop such a car, but with little success. Most such cars were generally unreliable, and usually too slow, too noisy, or too expensive.
The first (and essentially last) successful standardized design was the Budd Company's Rail Diesel Car (RDC), which debuted in 1949. Budd felt that it could succeed where others had failed by employing its expertise with lightweight stainless steel construction. It also used the rugged, reliable diesel engines designed for Army tanks as a power source. There are two such engines mounted under the RDC, powering the wheels through drive shafts. Each motor is mounted on a cradle that can be easily rolled out for inspection or servicing. A skilled crew could replace a defective engine in less than an hour. The dome on top of the middle of the car houses the radiators for the two engines.
The RDC could operate either as a single car, or in trains of any length, operated by a single engineer. Most RDCs, like this one, were entirely passenger seating, but Budd also produced other models with baggage compartments. The Chicago & North Western purchased three of these RDC's in 1950 to provide passenger service on its lightly-used lines into Iowa. This car was later sold to the Chesapeake and Ohio, and then to the Boston area transit agency (MBTA) where the motors were disconnected and it was used just as an ordinary railroad car, pulled by a locomotive. This was not uncommon, by the way – many RDC's wound up disabled like this. Car 9933 occasionally sees service here at IRM in the same way.
Nearly 400 RDC's were constructed between 1949 and 1962, and some are still in regular service on various tourist lines and museums.
Click to return to Internal Combustion Cars roster
Click to return to main roster page