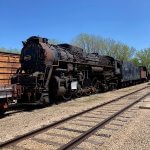 Alco 1943
Chesapeake & Ohio 2707
| | |
| --- | --- |
| Description: | 2-8-4 Berkshire |
Equipment Information
Chesapeake & Ohio 2707 is an example of a typical "Super Power" locomotive built towards the end of the steam locomotive era. It features a large firebox and combustion chamber to provide more heat and, thus, more steam and more horsepower. Engines of this type were generally known as Berkshires but the C&O called them Kanawhas in honor of the river in West Virginia.
COMPARE ME WITH: Chicago Burlington & Quincy 4963, an engine built 20 years earlier for similar freight use. The older engine is a 2-8-2 Mikado and has a smaller firebox and substantially less tractive effort than C&O 2707.
Chesapeake & Ohio 2707 Details
Builder: American Locomotive Company
Year Built: 1943
Builder Number: 70856
Wheel Arrangement: 2-8-4
Length: 105ft 1in
Width: 10ft 10in
Height: 15ft 8in
Weight: 460000 lbs
Brakes: 8ET
Tractive Effort: 69350 lbs
Cylinders: 26×34
Boiler Pressure: 245 psi
Drivers: 69in
Description: Class K4
Arrived: 1993
Condition: Complete / unrestored / not operational
What was the Chesapeake & Ohio Railway?
Locomotive 2707 is IRM's only locomotive from the Chesapeake & Ohio, or C&O. The C&O was created in 1869 by a group of financiers led by Collis P. Huntington. Starting with an east-west railroad line through central Virginia, they extended the C&O east to Newport News, VA, and west to the Ohio River at the town of Huntington, WV, which was named for the railroad's chief patron. The railroad later built an extension west along the Ohio River to Cincinnati and acquired railroads that connected Cincinnati to Toledo and Chicago, providing an entry to the upper Midwest. While the C&O did run passenger trains, the core of its business was freight, and much of that was coal traffic from Virginia and West Virginia headed east to the Newport News ports and west to Chicago.
During much of the 1920s and into the 1930s, the C&O was controlled by the reclusive Van Swearingen brothers of Cleveland, along with several other railroads. During this period, modern "Super Power" locomotives like 2707 were built to a standardized design for the C&O, Nickel Plate, and Pere Marquette. After World War II, the C&O dieselized and then merged over time with the Baltimore & Ohio. The merged railroad was called the Chessie System, taking its name from the C&O's advertising mascot, a kitten named Chessie. The Chessie System merged with the Seaboard System in 1987 to form CSX Transportation.
Click to return to Steam Engine roster
Click to return to main roster page