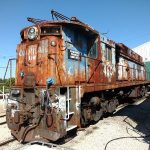 General Electric 1956
Conrail 4601
| | |
| --- | --- |
| Description: | E-33 main line freight locomotive |
Equipment Information
Conrail 4601 is a mainline electric freight locomotive. It was built hauling coal trains for the Virginian Railway but was sold in 1963 to the New Haven Railroad. On the New Haven, it was used in general freight service between New York City and New Haven, Connecticut. Locomotive 4601 was retired in the early 1980s and acquired by IRM from a New England railroad museum in 2015. It is the only ex-Virginian and the only ex-New Haven piece of equipment at IRM.
COMPARE ME WITH: Louisville & Nashville 314, an FA2 diesel freight locomotive built the same year as 4601 and for generally the same purpose. Although this electric locomotive has nearly triple the horsepower of the diesel, in the end diesels would win out over electrics for hauling freight due primarily to the huge capital cost of erecting overhead wires.
Click here to find out how you can help restore this locomotive and repaint it as New Haven 300.
Conrail 4601 Details
Builder: GE
Year Built: 1956
Length: 69ft 6in
Width: 10ft 8in
Height: 15ft 10in
Weight: 348000 lbs
Brakes: 24RL
Motors: 6 GE 752
Control: GE Silicon Diode Rectifier
Compressor: ???
Trucks: Tri-Mount
Description: Electric Freight / Class E-33 / Ex-VGN 131 / Ex-NH 300
Arrived: 2015
Condition: Incomplete / unrestored / not operational
Conrail 4601 Ownership History
1956-1959 – Virginian #131
1959-1963 – Norfolk & Western #231
1963-1968 – New York New Haven & Hartford #300
1968-1976 – Penn Central #4601
1976-1984 – Conrail #4601
1984-1988 – General Electric, Erie, PA
1988-2015 – Railroad Museum of New England, Waterbury, CT
2015-present – Illinois Railway Museum, Union, IL
Click to return to Electric Locomotives roster
Click to return to main roster page
What was the New Haven Railroad?
The New York, New Haven & Hartford Railroad, usually known as the New Haven Railroad or simply "the New Haven," was the largest railroad network in New England in the early 20th century. Its main line ran from New York City northeast to Boston, but from its formation in the 1870s the New Haven had branches blanketing much of southern New England including Connecticut, Rhode Island, and southern Massachusetts. Around the turn of the century the New Haven also built or purchased a network of electric railway lines.
Between 1907 and 1914 the New Haven electrified its tracks in the New York City area as far north as New Haven, CT. Following this, the railroad was able to use electric MU cars for its New York commuter service and large electric locomotives to pull freight and long-distance passenger trains. However this project, along with other acquisitions and capital projects, helped to put the railroad into significant debt. The New Haven went bankrupt in 1935, during the Great Depression. While it abandoned some lines and emerged from bankruptcy in 1947, the financially weak company went bankrupt again in 1961. Finally, in 1968, the New Haven was absorbed into the short-lived Penn Central, itself bankrupt by 1970 and superseded by the government-subsidized Conrail in 1976.