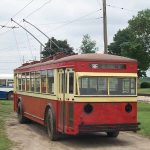 Brill-American 1930
Chicago Surface Lines 84
Equipment Information
Trolley bus service in Chicago began as a result of a court case between Chicago Surface Lines, which largely operated streetcars on city streets, and Chicago Motor Coach, which ran motor buses on the Park District's boulevard system. The issue was which company would obtain the right to serve the city's developing Northwest Side. CMC said that it could serve the residents better, because they could run motor buses immediately wherever there were streets. CSL felt that its city-wide service for a flat fare would better benefit Northwest Siders. The court's decision was that service by CSL was preferable, as long as they could begin carrying passengers on six primary routes within four months.
The trolley bus was still a comparatively new invention, but developments in the few years before the court decision had brought it from a crude, rickety vehicle to a practical people-hauler. In particular, CSL's engineers saw the new, large trolley bus installation at Salt Lake City and determined that trolley buses would be the mode used on most of Chicago's new lines. Needing vehicles quickly, CSL split their initial order among three builders: Twin Coach, St. Louis Car, and Brill. Brill built their part of the order at the American Car Co. plant in St. Louis, which they owned. Twin Coach was able to complete their portion of the order first, and the first line to open was 76-Diversey on April 17, 1930.
Bus 84 began service in June or July, 1930, and ran mostly on the 86-Narragansett line. Although it was considered modern when built, within a few short years it was primitive in comparison to new buses. It was overhauled in 1949 but retired in 1951. Stripped of its seats, it became a mobile locker room for work crews. The Electric Railway Historical Society purchased it in 1960 and it became part of IRM's collection when ERHS dissolved in 1973. Except for the seats, it is complete and operable.
Builder: Brill-American
Year Built: 1930
Model: T40
Seats: 40
Length: 33ft 9in
Width: 8ft
Height: 9ft 2in
Weight: 19080 lbs
Motors: 2 GE 298
Control: PCM-19
Compressor: CP-25
Description: Trolley Coach
Arrived: 1973
Condition: Incomplete / unrestored / operational
Read more about the history of this bus in Rail & Wire #181
Click to return to Trolley Bus roster
Click to return to main roster page