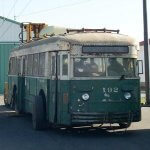 Brill 1937
Chicago Transit Authority 192
Equipment Information
Starting in 1930, the Chicago Surface Lines began service on seven routes on the Northwest Side with trolley buses. At the time, the area was not heavily populated by Chicago standards, so the 114 vehicles purchased during 1930-1931 were a fairly small fleet compared to the more than 3,000 streetcars that CSL operated. The trolley bus was a new enough idea, however, that they represented by far the largest fleet in the country.
After the leanest years of the Great Depression had passed, CSL began purchasing more trolley buses to expand service. In 1937, they bought from Philadelphia's J. G. Brill Co., the country's largest streetcar builder, 17 streamlined model T40S trolley buses. These were significantly more modern vehicles than their predecessors in almost every way, from passenger comfort to ease of operation. They seated 40 passengers.
Bus 192 operated on the 76-Diversey route for almost its entire service life. It was renumbered 9192 in 1952. It was retired in 1958, purchased by Glenn Andersen, and stored with the rest of our Museum's rail equipment collection at our original site in North Chicago. When IRM moved to Union in 1964, bus 192 was included, and Glenn formally donated it to the Museum in 1966 and became our first Trolley Bus Dept. Curator. It is complete, but not yet restored to operation.
Builder: J. G. Brill Company
Year Built: 1937
Model: T40S
Seats: 40
Length: 33ft 1in
Width: 8ft 4in
Height: 9ft 7in
Weight: 18700 lbs
Motors: 1 WH 1434
Control: WH Varimatic
Compressor: Bendix 1P
Description: Trolley Coach
Arrived: 1959
Condition: Complete / unrestored / not operational
Ownership History
1937-1947 – Chicago Surface Lines #192
1947-1952 – Chicago Transit Authority #192
1952-1959 – Chicago Transit Authority #9192
1959-present – Illinois Railway Museum, Union, IL
Click to return to Trolley Bus roster
Click to return to main roster page