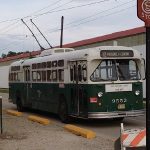 Marmon-Herrington 1951
Chicago Transit Authority 9553
Equipment Information
Chicago's trolley bus system, for the 43 years it lasted, provided vital transportation through the streets of the city. Even though it mainly served the Northwest Side with a few lines on the Near South Side, it had the largest fleet of trolley buses in the country. And even though it never came within a half-mile of the Loop, it carried enough passengers that some routes needed intervals between buses of less than a minute during rush hours.
CTA's last order of 349 trolley buses was also the largest quantity of them that had ever been bought from any builder, and no larger order has been placed since. Bus 9553 is one of those 349, and its sister 9631 is also preserved here at IRM. It was built by Marmon-Herrington in Indianapolis, Indiana, who had only produced their first trolley bus in 1946, but their product quickly outsold all other builders' trolley buses. Marmon's design was lightweight and strong, using the aluminum skin of the bus to stiffen the structure. Other manufacturers relied on a heavy steel frame, and moving all that extra weight consumed more electricity and cost more money to operate.
Bus 9553 was assigned to South Side routes for most of its life. When they were discontinued as the system was gradually abandoned, it moved to North Ave. Garage to serve Northwest Side routes. When Chicago abandoned its final trolley bus routes on March 25, 1973, bus 9553 was already chosen for preservation. It ran on a final excursion on April 1, and came to IRM on July 11. Among its sister buses, 124 were sold to Guadalajara, Mexico, where they continued in service until the early 1990s.
Bus 9553 is complete and operational, and runs frequently on IRM's demonstration trolley bus line.
Builder: Marmon-Herrington
Year Built: 1951
Model: TC49
Seats: 49
Length: 39ft 11in
Width: 8ft 6in
Height: 9ft 5in
Weight: 20340 lbs
Motors: 1 GE 1213J3
Control: MRC
Compressor: UH-10
Description: Trolley Coach
Arrived: 1973
Condition: Complete / unrestored / operational
Ownership History
1951-1952 – Chicago Transit Authority #553
1952-1973 – Chicago Transit Authority #9553
1973-present – Illinois Railway Museum, Union, IL
Click to return to Trolley Bus roster
Click to return to main roster page