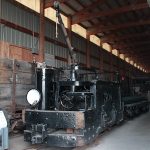 Baldwin/WH 1908
Chicago Tunnel Company 508
| | |
| --- | --- |
| Description: | Single-End Single-Truck Tunnel Loco |
Equipment Information
During the first half of the 20th century, a network of narrow-gauge, freight-only subways connected most of the buildings in downtown Chicago. The Chicago Tunnel Company, whose tunnels lay 40 feet below the city's streets, carried coal, ash, building supplies, and general merchandise between many of the large buildings in the Loop. CTC 508 is the only locomotive from this system to be preserved and restored. It is typical of the diminutive electric locomotives that hauled freight trains through narrow tunnels beneath the city's streets.
FUN FACT: On the morning of April 13, 1992, basements in buildings in downtown Chicago suddenly began filling with water. Much of downtown lost power and all the flooding did tremendous damage. The cause of the bizarre event was traced to the old Chicago Tunnel Company freight tunnels, abandoned since the 1950s but left abandoned in place. Workers driving piles in the Chicago River had inadvertently caved in the roof of one tunnel, allowing the river to flood large portions of the old tunnel system with more than 250 million gallons of water.
Chicago Tunnel Company 508 Details
Builder: Baldwin-Westinghouse
Year Built: 1908
Length: 10ft 11in
Width: 3ft 7in
Height: 5ft 2in
Weight: 15000 lbs
Brakes: Hand
Motors: 2 WH 155
Control: K-11
Trucks: Cast Frame 4 Wheel
Description: Single Truck / 250-volt / Electric Tunnel Locomotive
Arrived: 1996
Condition: Complete / cosmetically restored / not operational
Forty Feet Beneath the Street
Electric locomotive 508 and its train of narrow-gauge flat cars and ash cars are among the only preserved rolling stock from Chicago's underground freight railroad, the Chicago Tunnel Company. Starting in 1899, the CTC built a network of narrow-gauge railroad tunnels running beneath the streets of downtown Chicago. Electric locomotives like 508 pulled cars loaded with coal to heat the modern skyscrapers downtown, ash created by the furnaces, goods for the department stores, mail, and other freight.
The tunnel system was 40′ below street level. By the mid-1910s, there were nearly 60 miles of tunnels beneath virtually every street in downtown Chicago. The egg-shaped tunnels were 7'6″ high and 6′ wide. They carried 2′-gauge railroad lines throughout the Loop with sidings into major buildings' basements, two dozen elevators to raise freight to street level, and seven tunnels under the Chicago River. Over 2,500 freight cars and 130 electric locomotives comprised the fleet.
The Tunnel Company operated into the 1950s, but declining coal and ash traffic combined with a general move toward hauling freight by truck rather than by rail doomed the network. The CTC ended operations in July 1959 and scrapped most of the locomotives and cars. The only train remaining intact was 508 and four ash cars. They were left cut off in an isolated spur leading to the Field Museum. In 1996 workers uncovered this underground spur during reconstruction of Lake Shore Drive. IRM was able to retrieve these time capsules from their protected resting place of 40 years.
Click to return to Two Foot Gauge Equipment roster
Click to return to main roster page