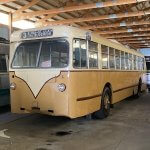 Pullman-Standard 1949
Cleveland Transit System 874
Equipment Information
Trolley bus 874 started its life far from Cleveland, in New England. Pullman-Standard, Chicago's huge railcar builder, had purchased a plant in Worcester, Massachusetts, and built trolley buses there. This bus was built there as number 1418 for United Electric Railways in Providence, Rhode Island. After only a few years, the company was bought out and became United Transit Company; the new management sought to eliminate trolley bus use quickly and replace them with motor buses. They even removed the electric motors from some of their trolley buses and put diesel- or gasoline-fueled engines in their place.
In 1952, bus 1418 was renumbered 8537, but only for a few months. Later in that year, it was part of a batch of 33 sold to Cleveland, Ohio, where it was renumbered 874. It continued in service until 1963, when trolley bus service in Cleveland was abandoned. It was acquired for preservation by the Omnibus Society of America, which planned to run it on excursions in various cities. After two runs in Johnstown, Pennsylvania, and one in Chicago, they donated it to IRM in 1965.
The construction of IRM's demonstration trolley bus line began in 1972, and on July 30 that year, bus 874 became the first trolley bus in the USA and the second in the world to operate at a museum under overhead wire. It saw major body work and a repaint to its Cleveland scheme during the 1990s.
It is complete, but awaits electrical and mechanical work before you can ride it in service on our demonstration line.
Builder: Pullman/Pullman-Standard
Year Built: 1949
Model: 44CX
Seats: 45
Length: 38ft 2in
Width: 8ft 6in
Height: 9ft 9in
Weight: 22565 lbs
Motors: 1 WH 1442
Control: Electro Cam
Compressor: DH-10
Description: Trolley Coach
Arrived: 1965
Condition: Complete / cosmetically restored / not operational
Click to return to Trolley Bus roster
Click to return to main roster page