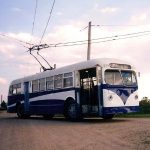 Brill 1948
Des Moines Railway 239
Equipment Information
Like many cities, Des Moines, Iowa, had a large streetcar network, developed around the turn of the 20th Century. Unfortunately, like many other cities, this meant that the cars and the track were starting to wear out at about the same time that increasing automobile use and the Great Depression cut ridership and revenue. Des Moines Railway had a large investment in electrical infrastructure, and chose to replace the streetcar routes, line-by-line as they wore out, with trolley buses.
Not only did they save money by buying trolley buses, they found that the new vehicles brought increased ridership- from 8 to 56%, depending on the route. In advertising the new service, they held a contest to give a name to the new vehicles. The winning name was "Curbliners," which emphasized the trolley buses' ability to load from the safety of the curb, rather than in the middle of the street as streetcars did. The Railway marketed themselves well, with "Ride the Quicker Cheaper Way" painted on many of the new trolley buses. One scheme that didn't work was to paint buses for different routes in the colors of the high school on that route; they found that misplaced school pride led students to vandalize other schools' buses.
A change in management led to the end of 25 years of Curbliner service in Des Moines, on January 24, 1964. Bus 239 was the only trolley bus saved, and incredibly it was driven from Des Moines to a museum in Minnesota by towing a generator. IRM acquired it in 1976. It is complete and operational, but awaits interior and mechanical work before you can ride it in service on our demonstration line.
Builder: ACF-Brill
Year Built: 1948
Model: TC44
Seats: 44
Length: 37ft
Width: 8ft 7in
Height: 10ft 4in
Weight: 21000 lbs
Motors: 1 GE 1213J
Control: MRC
Compressor: CP-37
Description: Trolley Coach
Arrived: 1976
Condition: Complete / cosmetically restored / not operational
Click to return to Trolley Bus roster
Click to return to main roster page