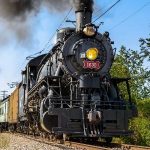 | | |
| --- | --- |
| Description: | 2-10-0 Decapod |
Equipment Information
St. Louis – San Francisco Railroad ("Frisco") 1630 is the museum's most famous steam engine. A "Russian Decapod," it was built in 1918 for export to Russia but was embargoed when the Bolshevik Revolution took place. Instead the newly-completed engine was sold to the Frisco, which used it in both freight and passenger service into the 1950s. The Frisco later sold it to Eagle-Picher Mining, where it saw use hauling freight and aggregate trains until the mid-1960s.
FUN FACT: Look closely at the front of the engine under the smokestack and you'll see builder's plates in both English and old-style Cyrillic – a holdover from the engine's intended destination of Imperial Russia.
COMPARE ME WITH: Illinois Central 3719, a large 2-6-0 freight engine built 18 years earlier than Frisco 1630. The IC engine has much higher axle loading, meaning it needs more substantial track on which to run than does Frisco 1630, an engine designed to operate on Imperial Russia's lightweight track. However the IC 2-6-0 has nearly the same tractive effort as the Frisco engine.
Click here to support the continued operation of Frisco 1630
Frisco 1630 Details
Builder: Baldwin Locomotive Works
Year Built: 1918
Builder Number: 47953
Wheel Arrangement: 2-10-0
Length: 71ft 9in
Width: 10ft 3in
Height: 16ft 2in
Weight: 210000 lbs
Brakes: LT
Tractive Effort: 47500 lbs
Cylinders: 24×28
Boiler Pressure: 180 psi
Drivers: 52in
Arrived: 1967
Condition: Complete / restored / operational
Read more about the history of this engine in Rail & Wire #162
Frisco 1630 Ownership History
1918-1920 – United States Railroad Administration #1147
1920-1951 – St. Louis-San Francisco (Frisco) #1630
1951-1967 – Eagle-Picher #1630
1967-present – Illinois Railway Museum, Union, IL
What was the Frisco?
This engine is IRM's only piece of equipment from the St. Louis-San Francisco Railway, universally known as the Frisco. The Frisco dates back to the 1870s, when it began as a branch of the Pacific Railroad, and it quickly expanded to encompass a network of lines centered around Missouri and Oklahoma (then known as the Indian Territory). It included lines from a hub in Springfield, MO, to St. Louis and Kansas City, MO, Tulsa and Oklahoma City, OK, Dallas, TX, Memphis, TN, Mobile, AL, and Pensacola, FL. For a time in the early 1900s it also controlled the Chicago & Eastern Illinois, and with it an entrance to Chicago. Despite its name, though, it never got closer to San Francisco than northern Texas.
During the 1950s the Frisco converted to diesel power like most other railroads. It remained independent until 1980, when it merged with the Burlington Northern.
Russian Decapods
Frisco 1630 is a 2-10-0 "Decapod," a heavy freight locomotive ideal for low speeds and heavy tonnage. It's known as a "Russian Decapod" for the very simple reason that it was originally built for Russia.
When the First World War began in 1914, Czarist Russia was dependent mainly on older, smaller steam locomotives. It was badly in need of modern engines to haul the heavier freight needed to sustain its war effort but, lacking sufficient factory capacity, it looked overseas. America was not yet involved in the war and had excess production capacity so Russian Railways ordered 400 modern freight engines from Baldwin, Alco and Montreal Locomotive Works. These engines were built to a hybrid Russian/American design, with some features tracing lineage to both country's railroad traditions. They even had builder's plates in both English and Cyrillic.
The engines worked so well that Russia ordered 550 more in the ensuing years and then, after the U.S. entered the war in 1917, it determined to send a further 500 Decapods to Russia. But the Bolshevik Revolution intervened and deliveries halted. About 200 locomotives had been built and were awaiting delivery so they were transferred to the U.S. Railroad Administration (USRA), rebuilt to American standard gauge by installing wider driver tires, and put to work on the nation's railroads.
After the war the USRA sold these engines to various railroads. One major buyer was the Frisco, which used them in freight service until it eventually sold several to Eagle-Picher Mining Company in Oklahoma. That is where IRM's "Russian Decapod" was in use into the 1960s.
The story of the "Russian Decapods" didn't end there, though. In World War II, Russia found itself in the same predicament, with too little manufacturing capacity and too few locomotives left operating after the German invasion. Between 1942 and 1945 the United States again provided over 500 locomotives to the USSR to help with its war effort. These locomotives used the same 1914 design as the earlier "Russian Decapods," a testament to the design's sturdiness and reliability.
Click to return to Steam Engine roster
Click to return to main roster page