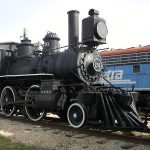 Rogers 1880
Illinois Central 201
| | |
| --- | --- |
| Description: | 2-4-4T Forney |
Equipment Information
Illinois Central 201 is the oldest steam engine at IRM and the only preserved standard-gauge 2-4-4T engine anywhere. The Illinois Central (IC) built it for suburban passenger service, hauling commuter trains south out of Chicago, and it remained in this role until the IC electrified its commuter operations in the 1920s. At that time, the IC retired number 201 but retained it as a museum piece.
FUN FACT: This may be the only engine still around that was run by the famous Casey Jones. Jones worked for the IC in Mississippi, but during the 1893 World's Fair in Chicago he temporarily worked on commuter trains running to the site of the fair in Jackson Park. It's very likely – though not certain – that he would have run this engine at some point during the fair.
Illinois Central 201 Details
Builder: Rogers Locomotive Works
Year Built: 1880
Builder Number: 2588
Wheel Arrangement: 2-4-4T
Weight: 107600 lbs
Tractive Effort: 11862 lbs
Cylinders: 16×22
Boiler Pressure: 140 psi
Description: Commuter / Forney
Arrived: 2002
Condition: Complete – cosmetically restored – not operational
Illinois Central 201 Ownership History
1880-1884 – Illinois Central #213
1884-1890 – Illinois Central #221
1890-1900 – Illinois Central #201
1900-1928 – Illinois Central #1401
1928-1965 – Illinois Central #201
1965-1975 – Vonachen's Junction, Peoria, IL
1975-2002 – Privately owned, Owatonna, MN
2002-present – Illinois Railway Museum, Union, IL
Read more about the history of this engine in Rail & Wire #193
Learn more about the Rogers Locomotive & Machine Works here
Steam Trains Along the Lakefront
The oldest steam locomotive at the museum is Illinois Central (IC) 201, built in 1880. IC employee Matthias Forney designed this type of locomotive specifically for use in suburban commuter service. While most steam engines were designed to be run forward over any distance, these "Forney" locomotives could operate in either direction with ease. This "double-ended" design made it possible to haul frequent passenger trains over short distances without having to physically turn the locomotive around at each end of the line.
The IC used number 201 and other locomotives on the line between downtown Chicago and the city's southern environs, one of the first suburban commuter operations in the country when it began in the 1860s. Commuter rail service expanded steadily during the late 1800s and early 1900s in many large cities as people moved to cheaper land in newly-created suburbs.
By the early 1900s, the advantages of electric traction were becoming apparent. The IC commuter line was an obvious candidate for conversion from steam to electric power, as the smoke and pollution from the operation affected the parkland along the city's lakefront. The Lakefront Ordinance of 1919 required the IC to get rid of its steam-powered commuter trains and within 10 years locomotives like 201 had been retired in favor of modern steel electric coaches (two of which are also preserved at IRM). IC 201, retained by the railroad as an historic artifact, was the only one of its type preserved.
Click to return to Steam Engine roster
Click to return to main roster page