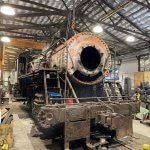 Brooks 1900
Illinois Central 3719
Equipment Information
Illinois Central 3719 is a freight engine designed for pulling heavy freight trains at low speed. It is among the largest 2-6-0 Moguls in preservation and has virtually the same tractive effort as Frisco 1630, a larger 2-10-0 engine built 18 years later.
COMPARE ME WITH: Graysonia Nashville & Ashdown 26, the museum's other 2-6-0 engine. The GN&A engine was built a quarter century later but weighs much less and has less pulling power, or tractive effort, than the burly IC engine.
Illinois Central 3719 Details
Builder: Brooks
Year Built: 1900
Builder Number: 3697
Wheel Arrangement: 2-6-0
Length: 67ft 2in
Width: 10ft 1in
Height: 15ft 2in
Weight: 177000 lbs
Brakes: 6ET
Tractive Effort: 43000 lbs
Cylinders: 20×28
Boiler Pressure: 215 psi
Drivers: 56in
Description: Ex 560
Arrived: 1986
Condition: Complete / unrestored / not operational
Read more about the history of this engine in Rail & Wire #271
Ownership History
1900-1937 – Illinois Central #560
1937-1943 – Illinois Central #3719
1943-1946 – Illinois Central #3706
1946-1963 – Bevier & Southern #109
1963-1986 – Steamtown, Bellows Falls, VT
1986-present – Illinois Railway Museum, Union, IL
What was the Brooks Locomotive Works?
This is the only locomotive at IRM built by the Brooks Locomotive Works of Dunkirk, New York. Horatio G. Brooks founded the company in 1869 when he purchased a shop complex recently vacated by the New York & Erie Railroad and began building steam locomotives there. Brooks became a successful builder of locomotives. By 1900, it was the fifth-largest manufacturing plant in New York State. The company prided itself on building unusually large locomotives, with IC 3719 being a prime example of an engine larger and more powerful than most of its contemporaries. In 1901, Brooks and several other smaller steam locomotive builders merged to form the American Locomotive Company, or Alco. Afterward, the Brooks plant continued to produce steam engines under the Alco name until 1934. After that date it stopped locomotive production in favor of building pressure vessels and heat exchangers. The plant closed permanently in 1962.
Click to return to Steam Engine roster
Click to return to main roster page