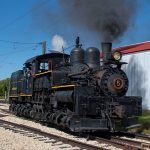 Lima 1929
J. Neils Lumber 5
Equipment Information
J. Neils Lumber Company 5 is the museum's only geared locomotive. It is a Shay, designed with three cylinders mounted vertically on the engineer's side that power a drive shaft running the length of the engine alongside the wheels. This allows all wheels to be powered using bevel gears. Shays were extremely slow but were powerful and could negotiate uneven track and sharp curves, making them popular with logging and mining companies.
COMPARE ME WITH: Coronet Phosphate 9, the museum's other steam engine that operated in logging service. Both engines were designed for low-speed drag freight use but CP 9 is a standard "rod engine" and lacks the separate trucks and drive shaft of the Shay.
Click here to help support the continuing operation of J. Neils Lumber 5
J. Neils Lumber Company 5 Details
Builder: Lima
Year Built: 1929
Builder Number: 3336
Wheel Arrangement: 3 Truck Shay
Length: 46ft 9in
Width: 9ft 10in
Height: 14ft 10in
Weight: 140500 lbs
Brakes: 6ET
Tractive Effort: 24500 lbs
Cylinders: Three 11×12
Boiler Pressure: 190 psi
Drivers: 32in
Description: 3 Truck Shay
Arrived: 1965
Condition: Complete / restored / operational
J. Neils Lumber Company 5 Ownership History
1929-1957 – J. Neils Lumber Company
1957-? – St. Regis Paper Company
?-1964 – Klickitat Log & Lumber Company
1964-1965 – Privately owned
1965-present – Illinois Railway Museum, Union, IL
Read more about the history of this engine in Rail & Wire #258
Shay Locomotives
J. Neils Lumber Company 5 is a Shay, a particular patented type of steam locomotive that drives the wheels through geared drive shafts rather than by wheels directly connected to the pistons by drive rods. Geared steam locomotives like this one, while rare in the Midwest and practically unknown on main line railroads, were once common in the western United States. Lumber and mining companies commonly used these engines.
The Shay was by far the most common type of geared locomotive. It was invented around 1880 by Ephraim Shay, the owner of a logging company in Maine, who was looking for an effective way to move logs from the forest to the lumber mill. Railroads were being built at a rapid pace at the time, but steam locomotives of the day were not well suited to the low speed, high tractive effort demands that timber haulage required. What Shay needed was to gear the wheels slower than one revolution per piston stroke, which was the natural limit of directly-connected piston locomotives. Such a thing didn't exist at the time, so he invented it.
During the ensuing 50 years, various builders constructed over 2,700 Shay locomotives as well as several hundred geared locomotives of slightly different designs. Shays were ideal for lumber and mining work. Their power at low speeds made them capable of hauling heavy trains while their multiple-truck design made them practical for use on poor-quality track. Running drive shafts to all of the wheels also made it possible for Shays to develop higher tractive effort by placing all of their weight onto powered axles.
J. Neils 5 spent its entire service life in the Pacific Northwest, first in Libby, Montana and later in Klickitat, Washington before coming to IRM in 1967. It was the first steam engine to operate at the Museum in 1968 and has operated intermittently since then.
Click to return to Steam Engine roster
Click to return to main roster page