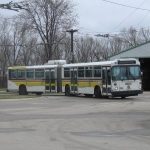 M-A-N 1987
King County Metro 4020
| | |
| --- | --- |
| Description: | Model SG-T310 Articulated |
Equipment Information
Almost since the beginnings of public transit, a trend toward larger vehicles has existed, in order to carry more passengers and earn more revenue per crew member. With trains, adding cars is an easy way to increase size. Enlarging a bus, however, is not so straightforward. There is a limit to the rigid length of a vehicle, set by laws and practical driving considerations. Double-decker buses and buses with trailers have been used, but both have serious disadvantages. Another alternative is the articulated bus; although adopted readily in Europe, articulated buses were not common in the USA until the 1970s.
Twin Coach built prototype articulated trolley buses in the 1940s, but no production orders were made. (See Chicago Transit Authority 9763, one of these prototypes, in our collection.) Seattle's need for more capacity on some of its busy routes led to the first US production order for 46 articulated trolley buses from M-A-N, a diversified German heavy manufacturing firm, now owned by Volkswagen. Seattle was already operating M-A-N articulated diesel buses of a similar design. M-A-N had established a bus manufacturing plant in the USA in tiny Cleveland, North Carolina, and Seattle's trolley bus order was one of the plant's last before it was closed. The traction motor and controls were supplied by Siemens.
The fleet was not initially successful, being taken out of service for a year while braking problems were addressed. By the early 1990s, though, they were operating in heavy service daily. Bus 4020 last ran in revenue service in May, 2007, and was used on a "farewell" excursion in September, 2007. Through the assistance of the Metro Employees Historic Vehicle Association, it was donated to IRM in 2008. It is complete and operates frequently on our demonstration line.
Builder: M-A-N
Year Built: 1987
Model: SG-T310
Seats: 64
Length: 59ft 10in
Width: 8ft 6in
Height: 10ft 10in
Weight: 40400 lbs
Motors: 1 Siemens 1KB2021-0ML02
Control: Siemens Thyristor Chopper
Description: Articulated Trolley Coach
Arrived: 2008
Condition: Complete / unrestored / operational
Ownership History
1987-2008 – King County Metro
2008-present – Illinois Railway Museum, Union, IL
Click to return to Trolley Bus roster
Click to return to main roster page