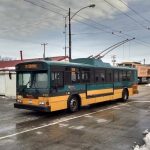 Gillig 2002
King County Metro 4123
| | |
| --- | --- |
| Description: | Model Phantom ETB |
Equipment Information
Seattle's trolley bus fleet was completely modernized in 1979 with 109 new vehicles from AM General, the bus-building arm of American Motors Corp. They were equipped with General Electric 1213 traction motors, a dependable design dating from 1939, but newly manufactured for this order. The controls, however, were a brand-new electronic "chopper" control, designed by Randtronics specifically to work with the old 1213 motor. The buses proved reliable, and when the bodies were wearing out in the late 1990s, a plan was developed to buy new body shells and install the old motors and controls in them, to save money instead of purchasing all-new trolley buses.
The electrical equipment was removed from the AM General buses and sent to Alstom in Hornell, New York, for refurbishment. Alstom updated some of the 1970's-era electronic components with modern, more reliable parts, but the basic Randtronics design remained intact. Gillig Corp., of Hayward, California, was chosen as the body builder. The company's "Phantom" model was very successful as a diesel transit bus, and was already in service in Seattle in that form. Gillig produced 100 rolling bodies, which were completed with the rebuilt electrical equipment in King County Metro Transit's shops.
An unusual feature of the order was that three paint schemes were used. The first one-third of the 100 buses, including ours, had a teal green upper half. The second one-third were royal blue on top, and the final one-third had dark green. All were yellow on the bottom.
The fleet was replaced by New Flyer-built trolley buses starting in 2014, and the final Gillig ran in November, 2016. Bus 4123 was retired in 2015 and came to IRM that November. It is complete and operates frequently on our demonstration line.
Builder: Gillig/KCMT
Year Built: 2002
Model: Phantom ETB
Seats: 42
Length: 40ft 10in
Width: 8ft 6in
Height: 11ft 10in
Weight: 31,205 lbs
Motors: 1 GE 1213J5
Control: Randtronics with Alstom Onix IGBT Chopper
Description: Trolley Coach
Arrived: 2015
Condition: Complete / unrestored / operational
Ownership History
2002-2015 – King County Metro
2015-present – Illinois Railway Museum, Union, IL
Click to return to Trolley Bus roster
Click to return to main roster page