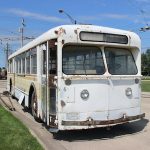 Pullman-Standard 1944
Municipality of Metro Seattle 656
Equipment Information
The War Production Board and the Office of Defense Transportation restricted manufacturing and sale of new trolley buses during WWII. Only Pullman-Standard's Worcester, Massachusetts, plant was permitted to build them during the entire war; other manufacturers were busy making war material instead. Seattle was able to order 30 trolley buses from Pullman to expand their fleet because of the importance of its industries to the nation's defense; 15 of these were taken away from an order under construction for Columbus, Ohio. These 30 buses were actually owned by the government's Defense Plant Corporation and leased to Seattle Transit until the end of the war. Our bus was the final unit on the order, and was numbered 1006.
During the mid-1960s, Seattle Transit's policy was to gradually abandon the trolley bus system, but strong public opinion against the policy, primarily for environmental and economic reasons, led to its reversal in the early-mid 1970s. Bus 1006 was one of the few that remained in service, and was re-numbered 656 in 1974 under the newly formed Municipality of Metropolitan Seattle.
This bus was chosen for two experiments in 1975. It received six large batteries and other equipment to test off-wire operation, and these permitted a two-mile range at about 5 mph. A motorized trolley pole raising and lowering system was also tested, and this would lead the way to a fleet of dual-mode (diesel/trolley) buses used in Seattle's downtown transit tunnel. Both of these experimental installations are still in place on bus 656 today. It was retired from service in about 1981.
Bus 656 arrived at IRM in 2017 and is complete, but has not yet been restored to operation.
Builder: Pullman-Standard
Year Built: 1944
Model: 44CX
Seats: 44
Weight: 21,400 lbs
Motors: 1 GE 1213J
Control: GE MRC
Description: Trolley Coach
Arrived: 2017
Condition: Complete / unrestored / not operational
Ownership History
1944-1974 – Seattle Transit #1006
1974-c1981 – Municipality of Metropolitan Seattle #1006
c1981-2017 – Orange Empire Railway Museum, Perris, CA
2017-present – Illinois Railway Museum, Union, IL
Click to return to Trolley Bus roster
Click to return to main roster page