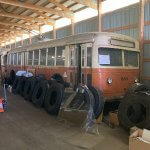 St Louis 1941
Milwaukee & Suburban Transport 269
Equipment Information
The Milwaukee Electric Railway and Light Co. served Milwaukee residents' transit needs well, operating electric interurban lines to outlying towns and streetcars and motor buses in the city. Starting in 1936, they began replacing some streetcar routes with trolley buses, which they called "trackless trolleys" as in many Northeastern cities. Conversion of streetcar routes to trackless trolley accelerated after World War II, and ten lines eventually made up the system.
The St. Louis Car Co. entered the trolley bus market early, building its first vehicle in 1921. Although they were not as successful as their competitors, producing only two or three orders on average per year, they continued in the market with new models until 1952. They built bus 269, a 41-seat model typical of their final pre-war design, as part of an order for 45 vehicles placed in 1940. The final fifteen of these, including number 269, were the only trolley bus work the builder had during 1941.
Trackless 269 was assigned to the National car station on Milwaukee's southwest side for most of its life, alongside streetcars 966 and 972 which are also in IRM's collection. When National closed in 1956, it was transferred to Kinnickinnic station at Kinnickinnic and Mitchell, on the near south side.
Ownership of the Railway changed hands in 1952. Previously a subsidiary of Wisconsin Electric Power, it became privately held and took the name Milwaukee & Suburban Transport. The new owners found that without subsidized electric power, declining ridership and inexpensive diesel fuel made conversion to diesel buses an economic necessity. Trackless 269 was retired in 1962 and purchased by Robert Kluesendorf for preservation. He donated it to IRM in 1965. Although complete and operational, winter street salt has damaged the steel body and it awaits restoration.
Builder: St. Louis Car Company
Year Built: 1941
Model: Job Number 1711
Seats: 41
Length: 34ft 11in
Width: 8ft 6in
Height: 10ft 4in
Weight: 20800 lbs
Motors: 1 WH 1442A
Control: WH AD2 Dynamatic
Compressor: UH-10
Description: Trolley Coach
Arrived: 1965
Condition: Complete / unrestored / not operational
Ownership History
1941-1952 – The Milwaukee Electric Railway & Transport Company
1952-1965 – Milwaukee & Suburban Transport
1965-present – Illinois Railway Museum, Union, IL
Click to return to Trolley Bus roster
Click to return to main roster page