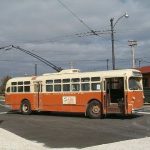 Marmon-Herrington 1948
Milwaukee & Suburban Transport 441
Equipment Information
The Milwaukee Electric Railway and Light Co. served Milwaukee residents' transit needs well, operating electric interurban lines to outlying towns and streetcars and motor buses in the city. Starting in 1936, they began replacing some streetcar routes with trolley buses, which they called "trackless trolleys" as in many Northeastern cities. Conversion of streetcar routes to trackless trolley accelerated after World War II, and ten lines eventually made up the system.
Marmon-Herrington, based in Indianapolis, entered the trolley bus market later than its rail-oriented competitors. It built its first vehicle in 1946, but its superior design quickly made it the largest seller. Marmon built only one design of trolley bus, varying only in number of seats and width of doors. They built bus 441, a 44-seat model, as part of an order for 26 vehicles. This was Milwaukee's final order of trolley buses, although they received 90 used units from Indianapolis when that system closed in 1957.
Trackless 441 was originally bought to convert the important Third St. line from streetcar to trolley bus service. It was then assigned to the Oakland car station on Milwaukee's northeast side for most of its life. Its final years were out of Kinnickinnic station at Kinnickinnic and Mitchell, on the near south side.
Ownership of the Railway changed hands in 1952. Previously a subsidiary of Wisconsin Electric Power, it became privately held and took the name Milwaukee & Suburban Transport. The new owners found that without subsidized electric power, declining ridership and inexpensive diesel fuel made conversion to diesel buses an economic necessity. Trackless 441 was retired on June 20, 1965, when the system was abandoned and was donated to IRM, while most of its sister buses were sold to Mexico City for further use. It is complete and operational, and you can ride it frequently on IRM's demonstration line.
Builder: Marmon-Herrington
Year Built: 1948
Model: TC44
Seats: 44
Length: 36ft 6in
Width: 8ft 6in
Height: 9ft 5in
Weight: 18230 lbs
Motors: 1 GE 1213J
Control: GE MRC
Compressor: UH-10
Description: Trolley Coach
Arrived: 1965
Condition: Complete / unrestored / operational
Ownership History
1948-1952 – The Milwaukee Electric Railway & Transport Company
1952-1965 – Milwaukee & Suburban Transport
1965-present – Illinois Railway Museum, Union, IL
Click to return to Trolley Bus roster
Click to return to main roster page