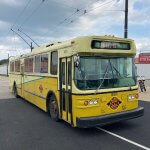 Flyer 1977
Miami Valley Regional Transit Authority 925
Equipment Information
After Toronto's success with building new trolley buses by putting old electrical equipment in new body shells, General Electric offered to build brand new motors and controls to their old designs for other cities needing to replace their trolley bus fleets. Flyer Industries, of Winnipeg, Manitoba, Canada, who built the body shells for Toronto's order, then offered all new vehicles of their latest model with the new electrical gear.
In Dayton, Ohio, the majority of transit service was provided by trolley buses. Motor buses were used mainly for routes that went into the suburbs. By the mid-1970s, their fleet was approaching 30 years old and required replacement. They ordered 64 of Flyer's new E-800 model, and the new trolley buses were delivered in 1977.
Dayton ordered their fleet with air conditioning, an option which had never been fully developed on trolley buses before. The system worked, although not well, and was rebuilt in 1985 to improve performance. The fleet was also retrofitted with wheelchair lifts in c. 1983. Bus 925 was rebuilt during a program in the early 1990s to extend the fleet's life. It was painted in a yellow and black scheme modeled after that worn by Dayton's City Transit Co. trolley buses from the 1940s. (See City Transit Co. 435 in this scheme in our collection.)
The Flyers were replaced with new trolley buses in 1999, and IRM received bus 925 in December of that year. It is complete and operable, along with its sister bus 906.
Builder: Flyer
Year Built: 1977
Model: E-800
Seats: 46
Length: 40ft 11in
Width: 8ft 6in
Height: 11ft 3in
Weight: 26000 lbs
Motors: 1 GE 1213J4
Control: MRC
Compressor: LeRoi 300-2VC
Description: Trolley Coach
Arrived: 1999
Condition: Complete / unrestored / operational
Click to return to Trolley Bus roster
Click to return to main roster page