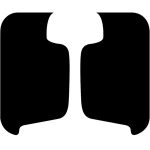 Alco 1923
Norfolk & Western 2050
| | |
| --- | --- |
| Description: | 2-8-8-2 Mallet |
Equipment Information
Norfolk & Western 2050 is the only articulated steam engine preserved at IRM and one of only two 2-8-8-2 Mallet locomotives in existence. It is a United States Railroad Administration (USRA) standard design and saw use in low-speed drag freight service in the mountains of Virginia. It is a compound engine, which means that it uses steam twice: first in the rear (high pressure) set of cylinders and then in the front (low pressure) set of cylinders.
Norfolk & Western 2050 Details
Builder: American Locomotive Company
Year Built: 1923
Builder Number: 64070
Wheel Arrangement: 2-8-8-2
Length: 113ft
Width: 11ft 3in
Height: 15ft 8in
Weight: 539000 lbs
Brakes: 6ET
Tractive Effort: 114154lbs S / 136985lbs C
Cylinders: 25×32 / 39×32
Boiler Pressure: 270 psi
Drivers: 58in
Description: Class Y3A
Arrived: 1976
Condition: Complete / unrestored / not operational
Ownership History
1923-1959 – Norfolk & Western
1959-1976 – Armco Steel, Middletown, OH
1976-present – Illinois Railway Museum, Union, IL
What was the Norfolk & Western Railway?
Engine 2050 is the only piece of equipment at IRM that was built for the Norfolk & Western, or N&W. The N&W was a railroad whose main line ran from Norfolk, VA, through West Virginia and northwest to Columbus, OH. Numerous branches served cities throughout Virginia, West Virginia, and as far northeast as Hagerstown, MD. Formed during the late 1800s through a series of merged smaller railroads, the N&W grew to rely predominantly on heavy bituminous coal traffic from along its main line. The railroad exported this coal, mined in West Virginia and southwestern Virginia, through the port at Norfolk and to markets in the Midwest and west.
The N&W also came to be known for distinctive steam locomotives that, much of the time, were designed and built in-house. The railroad built many articulated locomotives, including low-speed drag freight engines like 2050 and higher-speed fast freight locomotives. The N&W built these engines in its Roanoke shops, including the last steam locomotive built for a U.S. "Class One" railroad, in 1953. With abundant coal along its railroad, the N&W resisted the conversion to diesel-electric power longer than any other major railroad. But eventually, in 1965, the last N&W steam engines were retired. In 1980, the N&W merged with the Southern Railway to form today's Norfolk Southern.