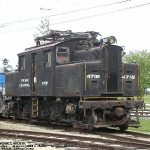 Alco/GE 1906
Penn Central 4715
| | |
| --- | --- |
| Description: | S-Motor main line passenger locomotive |
Equipment Information
Penn Central 4715 is the oldest electric locomotive preserved at IRM and is known as an "S-Motor." It was built to haul passenger trains north out of Grand Central Terminal in New York City because steam engines could not be used in the Park Avenue Tunnel. It has a "bi-polar" motor design wherein the locomotive's main axles form the core of the motor armatures.
FUN FACT: "S-Motors" were well known due to thousands of models of them built in the 1930s by Marx and Lionel, but the real locomotives never left the New York City area in service. IRM's locomotive, which ran for a time in Union in the 1990s, is the only one ever to have run outside of New York State.
COMPARE ME WITH: Pennsylvania Railroad 4927, a GG-1 electric locomotive built in 1942. The GG-1 was designed more than three decades after the "S-Motor" and besides having more modern styling, the PRR locomotive uses a higher-voltage AC power source and is much more powerful overall.
Builder: Alco/GE
Year Built: 1906
Length: 38ft 7in
Width: 10ft
Height: 14ft 4in
Weight: 228000 lbs
Brakes: 14EL
Motors: 4 GE 84A
Control: C79E
Compressor: 3-Cylinder Gardner-Denver
Trucks: 1 piece cast
Description: Double End / 2-D-2 / S Motor (Ex NYC 115)
Arrived: 1989
Condition: Complete / unrestored / not operational
Ownership History
1906-1908 – New York Central #3415
1908-1917 – New York Central #3215
1917-1936 – New York Central #1115
1936-1969 – New York Central #115
1969-1976 – Penn Central #4715
1976-1989 – Conrail #4715
1989-present – Illinois Railway Museum, Union, IL
Click to return to Electric Locomotives roster
Click to return to main roster page