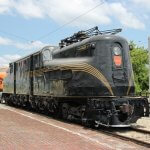 PRR/GE 1942
Pennsylvania Railroad 4927
| | |
| --- | --- |
| Description: | GG-1 streamlined main line locomotive |
Equipment Information
Pennsylvania Railroad 4927 is a GG-1 electric locomotive, perhaps the most famous type of electric locomotive ever built. The PRR built more than 130 of these locomotives and they pulled both passenger and freight trains between Washington DC and New York City for nearly 50 years.
FUN FACT: The GG-1 is the museum's only train to have been featured on a postage stamp. The US Post Office debuted a series of locomotive stamps in 1999 and PRR 4927 was repainted specially for the occasion.
COMPARE ME WITH: South Shore Line 803, a streamlined electric locomotive built in 1949. Similar in size for PRR 4927, South Shore 803 has very different styling and electrical gear designed to operate off of lower-voltage DC (direct current) rather than AC (alternating current) like 4927.
Builder: PRR/GE
Year Built: 1942
Length: 79ft 6in
Width: 10ft 8in
Height: 15ft 2in
Weight: 480000 lbs
Brakes: 24RL
Motors: 12 Quill Drive
Control: XM288B
Compressor: CA-150
Trucks: General Steel Casting
Description: Double End / 2-C+C-2 / Class GG-1 / (Ex Penn Central 4927 / Amtrak 4939)
Arrived: 1981
Condition: Incomplete / cosmetically restored / not operational
Read more about the history of this locomotive in Rail & Wire #181
Ownership History
1942-1968 – Pennsylvania Railroad #4927
1968-1976 – Penn Central #4927
1976-1981 – Amtrak #4939
1981-present – Illinois Railway Museum, Union, IL
Click to return to Electric Locomotives roster
Click to return to main roster page