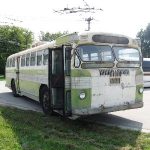 Fageol-Twin 1949
San Francisco Municipal Railway 614
Equipment Information
Few cities tested the ability of trolley buses to handle steep hills more than San Francisco. Considering the abnormally short lifespan of engines and transmissions in motor buses there, the city has retained trolley buses, and has the largest fleet in North America. Although service began on one line in 1935, most routes were converted from cable car or electric streetcar in the years just after World War II. By 1952, the Municipal Railway had purchased 398 brand-new trolley buses to modernize its operations, from Marmon-Herrington, Fageol-Twin Coach, and St. Louis Car. This fleet was the second-largest in the USA at the time; with the abandonment of Chicago's system in 1973, San Francisco's fleet became the largest in the country.
Kent, Ohio-based Fageol-Twin Coach only received orders for their post-WWII-design trolley bus from two cities, San Francisco and Detroit. However, the distinctive design sold well as a motor bus, with gasoline, diesel, and propane engines available.
Bus 614 was the 45th vehicle of an order for 90, built in 1949 and equipped with Westinghouse Electric's model 1442 traction motor and Electrocam controls. This combination, which was Westinghouse's best-selling propulsion package, was still not nearly as popular as General Electric's model 1213 motor and MRC control package. More than 5,200 trolley buses used the GE equipment, compared to only 1,113 with Westinghouse.
Bus 614 was preserved in 1977 at the Orange Empire Railway Museum in Perris, California, and came to IRM in 2009. It is the only preserved post-war standard trolley bus from Fageol-Twin Coach, and is complete and awaits restoration to operation.
Builder: Fageol-Twin Coach
Year Built: 1949
Model: 44TTW
Seats: 44
Length: 36ft 9in
Width: 8ft 8in
Height: 10ft 3in
Weight: 18360 lbs
Motors: 1 WH 1442
Control: ElectroCam
Compressor: UH-10
Description: Trolley Coach
Arrived: 2009
Condition: Complete / unrestored / not operational
Click to return to Trolley Bus roster
Click to return to main roster page