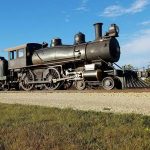 Baldwin 1914
Toledo-Detroit 16
| | |
| --- | --- |
| Description: | 4-4-0 American |
Equipment Information
Toledo-Detroit Railroad 16 is the only 4-4-0 preserved at IRM and one of the most modern examples of that wheel arrangement preserved anywhere. The 4-4-0 was so ubiquitous on American railroads between the 1850s and early 1900s that it was called the American type. By the early 1900s very few were being built, as larger types became more popular, but occasionally a few 4-4-0s were still built for passenger use. T-D (later Detroit Toledo & Ironton) 16 was used in passenger service in southeast Michigan until it was retired to the Henry Ford Museum, which traded it to IRM in 1984.
Toledo-Detroit 16 Details
Builder: Baldwin Locomotive Works
Year Built: 1914
Builder Number: 41653
Wheel Arrangement: 4-4-0
Length: 57ft 1in
Width: 10ft 6in
Height: 14ft
Weight: 233700 lbs
Brakes: G-6
Tractive Effort: 18200 lbs
Cylinders: 18×24
Boiler Pressure: 190 psi
Drivers: 67in
Description: 4-4-0
Arrived: 1984
Condition: Complete / cosmetically restored / not operational
Toledo-Detroit 16 Ownership History
1914-1915 – Midland Pennsylvania #1 "T.E. Herrick"
1915-1916 – Toledo-Detroit Railroad #16
1916-1930 – Detroit Toledo & Ironton #16
1930-1984 – Henry Ford Museum, Dearborn, MI
1984-present – Illinois Railway Museum, Union, IL
What was the Detroit Toledo & Ironton?
The Detroit Toledo & Ironton Railroad, or DT&I, was formed in 1905 to operate a north-south railroad line linking Detroit, in southeastern Michigan, and Toledo, in northwestern Ohio, with Ironton, a town in southern Ohio on the Ohio River. The railroad went bankrupt in 1908 but was purchased in 1920 by Henry Ford, who infused it with capital and used it as a direct link between his automobile plants in the Detroit area and the national railroad network. The DT&I crossed a number of major east-west railroads on its route through Ohio, providing Ford with multiple routes for shipping supplies in and cars out. Ford sold the railroad in 1929 and over the ensuing decades the DT&I was controlled by the Pennsylvania Railroad, Penn Central, and the Grand Trunk Western in turn, before being fully merged into the GTW in 1983.