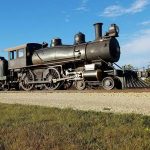 Baldwin 1914
Toledo-Detroit 16
| | |
| --- | --- |
| Description: | 4-4-0 American |
Equipment Information
Toledo-Detroit Railroad 16 is the only 4-4-0 at IRM and one of the most modern examples of that wheel arrangement in preservation anywhere. The 4-4-0 was so ubiquitous on American railroads between the 1850s and early 1900s that it was called the American type. By the early 1900s very few were being built, as larger types became more popular, but occasionally a few 4-4-0s were still built for passenger use. The Toledo-Detroit aspired to be an electric interurban line linking Toledo with Ann Arbor but never electrified. It purchased this engine but in 1916 the Detroit Toledo & Ironton bought the T-D for its route into Toledo. Number 16 was used in passenger service in southeast Michigan until it was retired to the Henry Ford Museum, which traded it to IRM in 1984.
Toledo-Detroit 16 Details
Builder: Baldwin Locomotive Works
Year Built: 1914
Builder Number: 41653
Wheel Arrangement: 4-4-0
Length: 57ft 1in
Width: 10ft 6in
Height: 14ft
Weight: 233700 lbs
Brakes: G-6
Tractive Effort: 18200 lbs
Cylinders: 18×24
Boiler Pressure: 190 psi
Drivers: 67in
Description: 4-4-0
Arrived: 1984
Condition: Complete / cosmetically restored / not operational
Toledo-Detroit 16 Ownership History
1914-1915 – Midland Pennsylvania #1 "T.E. Herrick"
1915-1916 – Toledo-Detroit Railroad #16
1916-1930 – Detroit Toledo & Ironton #16
1930-1984 – Henry Ford Museum, Dearborn, MI
1984-present – Illinois Railway Museum, Union, IL
What was the Detroit Toledo & Ironton?
The Detroit Toledo & Ironton Railroad, or DT&I, formed in 1905 to operate a north-south railroad line linking Detroit, in southeastern Michigan, and Toledo, in northwestern Ohio, with Ironton, a town in southern Ohio on the Ohio River. The railroad went bankrupt in 1908 but Henry Ford purchased it in 1920. Ford infused it with capital and used it as a direct link between his automobile plants in the Detroit area and the national railroad network. The DT&I crossed a number of major east-west railroads on its route through Ohio, providing Ford with multiple routes for shipping supplies in and cars out.
Ford sold the railroad in 1929 and over the ensuing decades railroads controlling the DT&I included the Pennsylvania Railroad, Penn Central, and the Grand Trunk Western (GTW) in turn, before the DT&I fully merged with the GTW in 1983.
Early Steam Engines
The first steam locomotive was built in England around 1802 to be used at a colliery. It wasn't until about 1830 that steam locomotives began to see use on general-purpose railroad lines. Early locomotives used in America, like the "Stourbridge Lion" of 1829 and the "Tom Thumb" of 1830, were tiny four-wheel locomotives capable of hauling only a few small four-wheel rail-borne carts or carriages. The "Stourbridge Lion" was unusually heavy at over seven tons.
As time went on and the demand for both speed and hauling capacity increased, though, locomotives became steadily bigger and more powerful. The early four-wheel designs soon gave way to more complex wheel arrangements. The "John Bull," a four-wheeler built in 1831, later acquired a two-wheel lead truck to help it navigate poor track. Before long, horizontal boilers supplanted earlier vertical ones. The increased length of the locomotives led to a need for more wheels, and soon 4-2-0 and 2-4-0 locomotives became popular.
The first 4-4-0 locomotive – one with four small lead wheels and four large drive wheels – was built in 1836. Within a decade it had become virtually a universal arrangement on American railroads, so much so that it became known worldwide as the "American" wheel arrangement. The vast majority of locomotives used in America from the 1850s through the 1870s were 4-4-0s. But progress advanced, and by the late 1800s larger locomotives with six or eight driving wheels were becoming the norm. By the time Baldwin built T-D 16 in 1914 it was already small and obsolete by contemporary standards. But it is still an example of the hundreds of "American" type steam locomotives that were ubiquitous on the nation's railroads for decades.
Click to return to Steam Engine roster
Click to return to main roster page