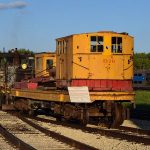 Brown Hoist 1923
Milwaukee Electric Railway & Transport D16
| | |
| --- | --- |
| Description: | Double-truck locomotive crane |
Equipment Information
Milwaukee Electric D16 is a self-propelled electric railway crane. It was used on the Wisconsin interurban system and the Milwaukee streetcar network for transporting and lifting heavy equipment, lengths of rail, and other items.
Milwaukee Electric D16
Builder: Brown Hoisting Machinery Co.
Year Built: 1923
Length: 40ft
Width: 8ft 7in
Height: 12ft 3in
Weight: 102000 lbs
Brakes: AMM
Motors: 4 GE 74
Control: M-C6A
Compressor: A4
Trucks: TMER&L M100AB
Description: Double End / Double Truck / Locomotive Crane
Arrived: 1988
Condition: Complete / unrestored / not operational
Ownership History
1923-1938 – The Milwaukee Electric Railway & Light Company
1938-1963 – The Milwaukee Electric Railway & Transport Company
1963-c1980 – Wisconsin Electric Power Company
c1980-1988 – The Wisconsin Electric Railway Historical Society, East Troy, WI
1988-present – Illinois Railway Museum, Union, IL
What was Brown Hoist?
Milwaukee Electric D16 is the only Brown Hoist-built piece of equipment at IRM. The Brown Hoisting Machinery Company, often known as Brown Hoist or Brownhoist, was a crane manufacturing company located in Cleveland, Ohio. Anthony Brown and his father Fayette Brown founded the company in 1880 and it specialized in cranes, hoists, and similar types of machinery. In 1893 it built some of the earliest cantilever, or hammerhead, cranes. The company also built maritime cargo unloading equipment that was used in docks throughout the Great Lakes. In 1931, the company merged with Industrial Works of Bay City, Michigan, to form the Industrial Brownhoist Corporation. Over the ensuing decades the merged company, headquartered in Bay City, was resold a few times until it shut down in 1983.
Click to return to Electric Work Equipment roster
Click to return to main roster page