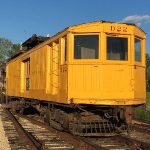 TMER&L 1907
Milwaukee Electric Railway & Transport D22
| | |
| --- | --- |
| Description: | Double-truck line car |
Equipment Information
Milwaukee Electric D22 is an overhead line car constructed in that railway's Cold Spring Shops. It was built in 1927 using components from a cab-on-flat locomotive constructed in 1907. It has a rooftop platform, for workers maintaining the overhead trolley wire, and was used maintaining overhead wire on the Wisconsin interurban network into the late 1940s.
FUN FACT: Car D22 is the only piece of electric railway equipment at IRM where the motorman can sit on the roof! The car is fitted with a controller and brake stand on its roof so that people working on the overhead wire can move the car without having to go "downstairs" to its normal cabs.
COMPARE ME WITH: Illinois Terminal 1702, which like this car was rebuilt in the 1920s from an old cab-on-flat locomotive. The design of D22 is very different, though, as it lacks the open platform and wire spool supports of the IT line car.
Builder: TMER&L
Year Built: 1907
Length: 45ft 6in
Width: 9ft 6in
Height: 12ft 9in
Weight: 73800 lbs
Brakes: AMM
Motors: 4 GE 205B
Control: HL-15B2
Compressor: CC4
Trucks: StL 23AE
Description: Double End / Double Truck / Line Car
Arrived: 1989
Condition: Complete / unrestored / not operational
Ownership History
1907-1938 – The Milwaukee Electric Railway & Light Company
1938-1963 – The Milwaukee Electric Railway & Transport Company
1963-1972 – Wisconsin Electric Power Company
1972-1989 – The Wisconsin Electric Railway Historical Society, East Troy, WI
1989-present – Illinois Railway Museum, Union, IL
Click to return to Electric Work Equipment roster
Click to return to main roster page