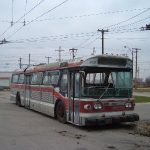 Flyer/TTC 1972
Toronto Transportation Commission 9339
Equipment Information
By the mid-1960s, cities all across North America had largely abandoned their trolley bus systems, mostly in favor of diesel buses. The few exceptions usually had local conditions, like steep hills or stations in tunnels, which made trolley bus service more practical than other forms of transport. The last American-made trolley bus had been built in 1958 and no manufacturer was offering new units. The Toronto Transit Commission, which preferred trolley buses for feeder routes to its subway stations, wanted to replace its aging fleet and was determined to find a way to get them, even if it had to do some of the work in its own shops.
The TTC found that the electrical equipment on its 1940s-era fleet was generally in good condition, and only the bodies were worn out. They found a diesel bus manufacturer, Flyer Industries in Winnipeg, Manitoba, Canada, willing to produce new body shells, and TTC refurbished the electrical equipment and installed it in the new bodies themselves. The result was a fleet of 152 practically new trolley buses, which not only led other cities to renew their fleets, but also caused General Electric to begin making all-new electrical equipment to the old design. There is little doubt that if TTC and Flyer had not built these buses, most or all of the remaining cities with trolley buses would have replaced their systems with diesel buses.
Bus 9339 was retired in 1991 and was preserved by the Halton County Radial Railway near Toronto in 2000. IRM acquired it in 2006. It is the only survivor of Toronto's fleet of Flyer trolley buses. It is complete, although not yet restored to operation.
Builder: Flyer/TTC
Year Built: 1972
Model: E700A
Seats: 40
Length: 41 ft 1in
Width: 8ft 6in
Height: 10ft 10in
Weight: 19900 lbs
Motors: 1 GE 1213J
Control: CGE MRC
Compressor: CGE CP-25
Description: Trolley Coach
Arrived: 2006
Condition: Complete / unrestored / not operational
Read more about the history of this bus in Rail & Wire #224
Click to return to Trolley Bus roster
Click to return to main roster page