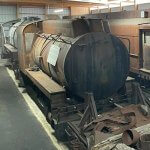 Porter 1946
Union Electric 4
| | |
| --- | --- |
| Description: | 0-4-0 Fireless |
Equipment Information
Union Electric 4 is the museum's only example of a fireless steam engine. Fireless engines, which were uniformly switchers, were designed for use in industrial areas where there was a significant fire risk. Rather than having a firebox, which could create sparks, they instead were "charged" with superheated water from a stationary boiler located away from flammable materials. The engine could often operate for several hours before having to return to "recharge." This engine was used at a power plant in Venice, Illinois, across the Mississippi River from St. Louis.
Union Electric 4 Details
Builder: H.K. Porter, Inc.
Year Built: 1946
Builder Number: 8030
Wheel Arrangement: 0-4-0F
Length: 29ft
Width: 9ft 6in
Height: 12ft
Weight: 100000 lbs
Brakes: Steam Jam
Tractive Effort: 12802 lbs
Cylinders: 22×18
Boiler Pressure: 400 psi
Drivers: 36in
Description: Fireless
Arrived: 1982
Condition: Complete / unrestored / not operational
Ownership History
1946-1980 – Union Electric Company
1980-1982 – Transport Museum Association, Brooklyn, IL
1982-present – Illinois Railway Museum, Union, IL
What was H.K. Porter, Incorporated?
This engine is one of two at IRM built by H.K. Porter, Inc. Porter got its start in 1866 in Pittsburgh, Pennsylvania, as Smith & Porter, a manufacturer of mining and industrial equipment. Before long the firm started producing small steam locomotives, mainly for industrial use. Corporate reorganizations occurred in 1871 and 1878, at which time the company became H.K. Porter, Inc. Porter continued to specialize in small switchers and industrial locomotives. It offered a range of modular components, that buyers could combine as needed, and also sold locomotives built to standardized designs.
Porter built its first "fireless" locomotive in 1915, and continued on to be a popular choice for industries looking to purchase fireless steam engines. Although Porter dabbled in gas- and diesel-powered locomotives, it was not particularly successful in selling these engines, and during the 1940s its orders dried up as locomotive operators switched over to diesel power. The last Porter locomotive rolled out of the factory in 1950. The company continued in business building tooling and industrial equipment and still exists to this day.
Click to return to Steam Engine roster
Click to return to main roster page