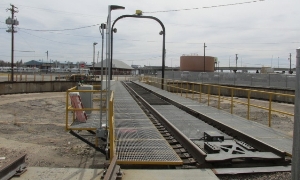 The Illinois Railway Museum is proud to announce its acquisition of the historic one-hundred-and-thirty foot turntable from the Denver & Rio Grande's Burnham shop complex. The turntable, installed in 1941, was removed from service and sold to the museum in 2016, shortly after undergoing a total refurbishment believed to have cost at least $500,000. Volunteers and contractors traveled to Denver to dismantle the turntable, and it has been moved to the museum's site, where it remains in storage.
Once installed, this historic turntable will present a fascinating visitor attraction, will improve the museum's outdoor equipment displays, and will facilitate the turning of equipment too large to traverse the museum's wye. More importantly, the turntable is the centerpiece of the museum's long term plan to construct a roundhouse facility to house and present our steam locomotive collection and to drastically expand the museum's indoor exhibit space.
The installation of this turntable will be a substantial construction project, and we will need your assistance in order to reassemble and preserve this amazing artifact. Preliminary work on this project is already underway, but ground cannot be broken until full funding for this project is in place.