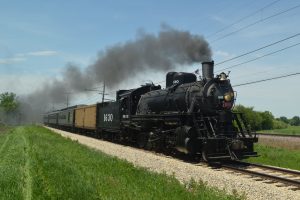 One of the most popular trains at the Illinois Railway Museum is the coach train. It's the quintessential old-time railroad experience. Climb aboard a steel coach (or combination coach-baggage car, called a "combine") and take a seat at one of the open windows. Enjoy the breeze and listen to the clickety-clack of the track while you roll through the countryside at up to 30 miles per hour.
Depending on the day, the coach train is typically pulled either by a steam engine – usually Frisco 1630, built in 1918 – or by an historic diesel locomotive. The cars in the train are a mixture of commuter coaches and "day coaches" (medium- to long-distance coaches). There's always a combine that has wide doors capable of accommodating wheelchairs.
Cars included in the coach train often include between two and four of the following:
Help Keep Our Coaches Rolling
The volunteers in our Passenger Car Department work hard to keep the historic cars in the Coach Train in peak condition, but they can't do it without your help. Click here to learn how you can support the restoration and maintenance of the Illinois Railway Museum's fleet of vintage passenger cars.