Railroad Passenger and Baggage Cars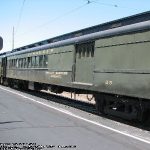 Pressed Steel 1925
Bessemer & Lake Erie 25
| | |
| --- | --- |
| Description: | Steel Combine |
Equipment Information
Bessemer & Lake Erie 25 is an all-steel combine, or combination passenger-baggage car. It was built for use between Pittsburgh and Erie, Pennsylvania. After it was retired, it was modified for use as a "camp car" on the Elgin Joliet & Eastern but it has been restored to original configuration by IRM. It is the only ex-B&LE piece of equipment preserved at IRM.
Bessemer & Lake Erie 25 Details
Builder: Pressed Steel Car Company
Year Built: 1925
Seats: 48
Length: 75ft 9in
Width: 10ft 5in
Height: 14ft 7in
Weight: 127600 lbs
Brakes: ???
Trucks: 4 Wheel
Description: Steel Combine
Arrived: 1984
Condition: Complete / restored / operational
What was the Bessemer & Lake Erie Railroad?
The Bessemer & Lake Erie, or B&LE, was founded in 1900 by Andrew Carnegie and was formed from a merger of several smaller lines. It was intended to be a route for Carnegie Steel Company (later United States Steel, or USS) products to be shipped from mills in the Pittsburgh, PA, area north to ports on Lake Erie at Erie, PA, and Connaught, OH. This provided a rail and water route for USS products from Pittsburgh directly to ports throughout the Great Lakes. Most traffic on the B&LE was freight traffic, and the railroad was known for a roster replete with heavy drag freight locomotives, but the railroad did also run some passenger service. B&LE 25 was built by Pressed Steel Car Company, a manufacturer based in Pittsburgh.
The B&LE remained associated with USS into the early 2000s, which is why this combine ended up being sold to the Elgin Joliet & Eastern, another USS-owned railroad. The B&LE was sold to Canadian National in 2004.
Click to return to Passenger Car roster
Click to return to main roster page